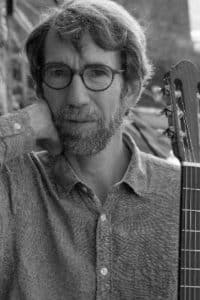 Driven by an energy and a curiosity towards multiple musical styles, Thierry Mercier is one of the soloists of the Venice Biennale, invited to play a concerto during the opening night in September 2020.
His recital repertoire combines masterpieces from the Renaissance, Baroque, Romanticism and the 20th century.
Thierry Mercier performs in Europe in major festivals such as Musica Strasbourg, Festival d'Edimbourg, Ars Musica, Royaumont, Ircam, Berlin Festwochen, Présences, Villa Médicis…
He performs all the main Concertos, from the famous Concierto de Aranjuez and those of Vivaldi, to recent works such as Chemins V by Berio, or Tres graficos by Ohana recorded with the Orchester régional de Bretagne.
Selected by Pierre Boulez during an audition, he participates in the activities of the Ensemble Intercontemporain.
Thierry Mercier collaborates with composers such as Luciano Berio, of whom he plays and records the Sequenza 11 for guitar and creates Chemins V (guitar & orchestra) at Radio France; Luis de Pablo for the creation of Fantasias with the Philharmonic Orchestra of Radio-France and then the National Orchestra of Spain RTVE; George Crumb for Quest for guitar & Ensemble, premiered with EiC; with Tristan Murail, Elliott Carter, Bernard de Vienne, Jose Manuel Lopez-Lopez, György Kurtag…
Thierry Mercier is dedicatee or performer of many works by M. Mochizuki, F. Baschet, L. Bicalho, Y. Maresz, FB. Mâche, J. Schöllhorn, T. Blondeau, … He presented the complete work for solo guitar by Maurice Ohana at a festival. He collaborates in the activities of the Orchester National de France, the Plural Ensembles / Madrid, Ictus / Brussels, Stravinsky, Court-Circuit.
Thierry Mercier has performed and recorded under the conducting of Pierre Boulez, Pascal Rophé, Patrick Davin, Mark Foster, Jean-Pierre Pinet, David Robertson, Daniel Kawka, Paul Méfano, Nicolas Brochot, Diego Masson, Pierre-André Valade, George-Elie Octors …. With his partners, the soprano Isabel Soccoja, the percussionist Jean Geoffroy, the violist Garth Knox, he explores the repertoires of chamber music.
Attached to interdisciplinary projects, he has carried out several projects with dance and theater.
Thierry Mercier approached music from childhood, through the piano, then the guitar at the conservatory as a teenager. He studied at the "Conservatoire National Supérieur de Paris", taking courses in Aesthetics, and Specialized Analysis, and subsequently worked on percussion, and conducting. He follows many courses, with Léo Brouwer, and in early music in particular with Hopkinson Smith.
Thierry Mercier teaches in the Paris area, at the Conservatory of Bourg la Reine / Sceaux. He is also a trainer for the State Diploma and guitarists destined for the teaching profession, involved in professional training diploma courses. He coordinated the book "10 years with the guitar" (Ed. Cité de la musique, Paris). He regularly designs masterclasses and educational projects for conservatories, students, and new audiences.
Thierry Mercier plays on a guitar by Barcelona luthier Gabriel Fleta.