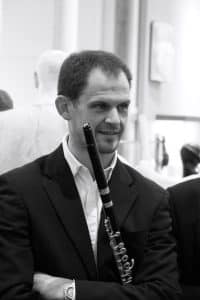 Pierre Pouillaude began music at the National Conservatory – Conservatoire à Rayonnement Départemental in Cambrai. After obtaining a gold medal in transverse flute, chamber music and musical training, he entered the class of Philippe Pierlot and Pascale Feuvrier at the Conservatoire à Rayonnement Régional in Rueil-Malmaison. There he won a Prize of Excellence and joined the National Superior Conservatory of Music and Dance of Lyon – CNSMD, in the class of Philippe Bernold, Emmanuelle Réville, Julien Beaudiment and Gilles Cottin where he obtained his Higher National Diploma of Music and his Certificate of Flute ability.
He participates in numerous festivals, in Aix-en-Provence, Prades (Pablo Casals festival), Chaise-Dieu, Côte-Saint-André, Lacoste, the Musica de Strasbourg contemporary music festival, the Flam festival, meetings musicals of Haute-Gironde. In 2009, he was a finalist in the Henri Tomasi international wind quintet competition in Marseille and from 2009 to 2014, was part of the Carpe Diem ensemble under the direction of Jean-Pierre Arnaud. In 2018, he recorded "Catharsis", the 27th volume of the box set "The Musicians and the Great War" (Hortus editions) with Amaury Breyne, pianist with whom he now regularly plays sonatas. Finally, he founded the Solis wind quintet, a wind quintet from Hauts-de-France in 2019 with members of the Lille National Orchestra, the Peacekeepers Orchestra and the Anvers Symphony Orchestra.
He is also a member of the Solis Quintet.
Alongside his chamber music concerts, Pierre Pouillaude performs replacements in various orchestras. He has worked with the Lille National Orchestra, the Antwerp Symphony Orchestra, the French National Orchestra, the Lyon National Orchestra, the Lyon National Opera Orchestra.
Pierre Pouillaude is a professor at the Regional Conservatory – CRR of Rueil-Malmaison, and at the Departmental Conservatory – CRD of Roubaix.
He also participates in the summer at the Académie Musicalta in Rouffach in Alsace.