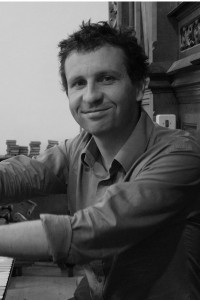 His meeting with Jean Boyer will profoundly influence his career. Having worked with him from 1988 to 1992, Lionel Avot has the chance to improve with Aude Heurtematte at Lille Conservatory, where he received a gold medal Price and Imrpovement Price. Subsequently, he gains awards at the international competition Franck Haarlem (Netherlands), Vilnius (Lithuania) and Biarritz (France).
In Paris he was invited to play at Notre Dame de Paris, Saint-Sulpice, Madeleine, Saint-Etienne-du-Mont, Our Lady of Autueil, St. Thomas Aquinas, Saint-Gervais, Saint Louis-en-Ile … he played also abroad, including playing twice at the Dome Church in Riga (Latvia) and the Church of St. John of Lüneburg in Germany. In summer 2014, he gave six concerts in Japan and plays in prestigious halls including Suntory Hall and Tokyo Opera City in Tokyo. In 2015, he played in Germany in Hamburg, Wiesbaden, Pfungstadt, Suhl and Langenhorn.
He interprets scores of his contemporaries such as "In Memoriam Thaddeus in" ofor rgan and Asian percussion composed by Jacques Pichard and in 2010 he created a piece from Yves Lafargue the "Choral" in Paris at Saint-Antoine des Quinze-Vingt. In July 2017, He created the Choral Liebster Jesu from Hina Sakamoto in Yokohama (Japan).
Liesbeth Schlumberger substitute organist for the Cavaillé-Coll organ in "Etoile" Church in Paris with Fabrice Pincet and Philip Mead, Lionel is also responsible for the programming of organ concerts on the new Grenzing organ in the Auditorium of Radio France.
He signed his first recording in 2011 with works by César Franck at the Church "Notre-Dame de la Dalbade" in Toulouse "A milestone in the collection (…) a real success, well-considered, (…) a full interpretation, sensitive and colorful. "(Gérard Condé "Le Monde").
Passionate about education, it is since 1999 professor at the Organ School "Jehan Alain" in Epinay-sur-Orge (Merklin organ).
In 2014 and since 2017, he is professor of organ class in CRR Lyon Conservatory.
Since 2015, Lionel Avot is regularly invited to teach at Musicalta Académie on the organ Callinet of Rouffach and on other historical organs in Alsace.