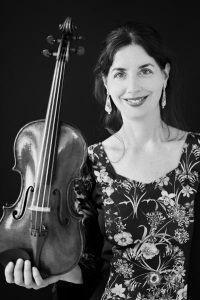 Born in Würzburg, Katharina Rebecca Cording is a faculty member of the Hochschule für Musik Würzburg and since 2005 also of the Institute for Music Research of the Hochschule für Musik Würzburg.
She performed around the world as a member of the Würzburg Piano Trio founded in 2001. Katharina Cording released several CDs including H.W. Ernst's solo variations on "The Last Rose of Summer". She has a very large repertoire.
At the age of four she began playing the violin with Wanda Wilkomirska. She also studied with Conrad von der Goltz, Sören Uhde, Helmuth Zehetmair and Ruggiero Ricci.
At the Mozarteum in Salzburg she received her artistic diploma with distinction.
Katharina Cording worked with Ida Haendel, Zakhar Bron, Herman Krebbers, Yfrah Neaman, Krzysztof Wegrzyn, Menahem Pressler and Siegfried Palm.
Several of her students have won awards and are now successful musicians and teachers.