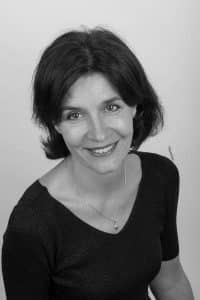 Hélène Desmoulin started the piano under the direction of Lucette Descaves. After her first CNSMD awards in Paris (piano in Germaine Mounier's class and chamber music in Geneviève Joy-Dutilleux's class), she followed an improvement cycle with violist Christophe Desjardins. They will be laureates of the contest of Trapani.
In 1986, her sister Marie joined her in the class of Alain Planès ; then succeed international competitions, concerts, televisions, radios. Supported by the foundations Yehudi Menuhin and Natexis, they followed the teaching of Marie Françoise Bucquet, Hans Kamerling and Bruno Rigutto.
The duo performed on large international stages (Concertgebouw Amsterdam, City Theater, Orsay Museum, Salle Gaveau), and was the guest of the Universal Exhibition of Seville, the Cannes Film Festival, Jeunesses Musicales du Canada, accompanied the singer Jean Guidoni in his show with two pianos, played Martial Solal for the Night of the Musicians. Hélène and Marie collaborated with many orchestras. They recorded 4 CDs (Lyrinx and Salabert). Nicolas BACRI dedicated his "Concerto for two pianos and string orchestra" created at the Lessay Musical Hours Festival, with Joëlle Lemée on the second piano.
Hélène and Marie Desmoulin shooted a short film "Danzon Cubano" directed by producer Patrick Vialle for the channel Mezzo.
After the death of Marie Desmoulin, Hélène Desmoulin played with Marc Coppey, Philippe Graffin, Igor Kirichenko, Bruno Rigutto, Nicholas Angelich and the Elysee Quartet.
Hélène Desmoulin participated in the Rencontres "Liszt à Angers" (2005 and 2008) organized by Nicolas Dufetel, and created on this occasion with the pianist Joëlle Lemée, unpublished works of the Hungarian composer. In 2013, Hélène Desmoulin plays piano-marimba duet with percussionist Nicolas Cousin, member of Trio SR9 (http://sr9trio.com/)
Since 2015, Hélène Desmoulin is pianist of the MINIUM 21 ensemble, involved in the diffusion of contemporary music.
Hélène Desmoulin is currently professor at the Regional Radiation Conservatory of Angers.