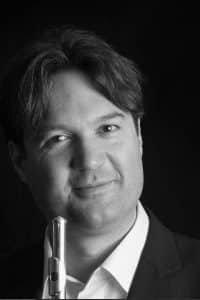 Gionata Sgambaro develops an extensive musical activity, ranging from the creation of new music to the historically informed interpretation on period instruments.
Since 2003, he has been a soloist with the Les Siècles orchestra (directed by François Xavier Roth) and plays on period instruments.
He is also solo flute at the Dresdner Festspielorchester and the München Opernfestspiele Orchester (dir. Ivor Bolton) from 2014 to 2018.
He is regularly invited as solo flute by the Orchester National de France, the Orchester de Chambre Nouvelle Aquitaine, the Rotterdam Philharmonic Orchestra, the Gaeschinger Cantorey – Stuttgart, the Orchester de l'Opéra de Lyon, the Orchester Symphonique de Bretagne, the Orchester National Bordeaux – Aquitaine, the Orchester National d'Auvergne and he has collaborated with the Orchester des Champs Elysées, the Orchester de l'Opéra de Paris, the Orchester Philharmonique de Strasbourg, the Ensemble Instrumental and Vocal de Lausanne, La Chambre Philharmonique conducted by Neeme Järvi, Peter Eötvös, Vladimir Ashkenazy, Emmanuel Krivine, Armin Jordan, George Benjamin, Michel Corboz, Ivan Fischer, Philippe Herreweghe, Ton Koopman, Reinhard Goebel, Arie van Beek, Jean François Hesser, Hans-Christophe Rademann among others.
Chamber music occupies a privileged place in his activity and he shares the stage with artists such as pianists Frédéric Vaysse-Knitter, François Dumont, Alexandre Léger, Eric Le Sage, Franck Braley, Paul Montag, Samuele Sgambaro, harpsichordists Kenneth Weiss , Elisabetta Guglielmin, Emmanuel Rousson, organists Daniel Roth, Ghislain Leroy, Pierre-Yves Fleury, harpists Catherine Michel, Valéria Kafelnikof, Aurélie Saraf, guitarist Caroline Delume, cellists Frédéric and Florent Audibert, Hélène Dautry, Peter Szabo Szabo, the violinists Oswald Sallaberger, Jan Orawiec, Catherine Jacquet, percussionist Claudio Bettinelli, the Béla, Cambini, Van Kuijk, Voce quartets, the L'Instant Donné ensemble, the Calliopée Ensemble or the Solistes des Siècles.
He has performed in prestigious halls and theaters around the world: Concertgebouw in Amsterdam, Carnegie Hall in New York, Philharmonie de Berlin, Victor Albert Hall in London (BBC Proms), Philharmonie de Paris, Théâtre des Champs – Elysées, Théâtre du Châtelet, Salle Pleyel, Seattle Benaroya Hall, Victoria Hall in Geneva, Teatro Olimpico in Vicenza, Scuola Grande di San Rocco in Venice, Auditorium Parco della Musica in Rome, Semper Oper in Dresden, Prinzregententheater in Munich, Philharmonie in Cologne, Philharmonie de Essen, Würzburger Residenz, the Kursaal de San Sebastien, Glocke – Bremen Konzerthaus, Seattle Benaroya Hall, Zellerbach Hall in Berkeley, Royce Hall in Los Angeles, Tokyo International Forum.
As a soloist, he has played numerous concert pieces, including Mozart's concertos, Telemann's Overture Suite and Conclusion, Devienne's concertos, Rodrigo's Concierto Pastoral, the Suite in B minor and the 5th Brandenburg Concerto by JS Bach, Couperin's Royal Concerts, L. Bernstein's Halil.
He has made numerous internationally acclaimed recordings, notably with Les Siècles, as well as the television series Presto! for France 2, available on DVD. Several recordings and live radio for France Musique, with the Orchester National de France and in chamber music.
Hailed by critics, his album dedicated to Claude Debussy in flute and piano duo, for the KLARTHE label, features several original transcriptions.
Gionata Sgambaro is a professor at the Superior Conservatory – École Supérieure de Musique Bourgogne-Franche-Comté, at the National Conservatory – CRR of Boulogne-Billancourt and at the CRD of Aulnay-sous-Bois. He was Director of Studies at the Ecole Supérieure de Musique – ESM Bourgogne-Franche-Comté, after having taught flute and chamber music at the Pont Supérieur – Pôle d'Enseignement Supérieur Bretagne – Pays de la Loire, at the Conservatoire de Ville d'Avray and at the CRR in Rennes. He is a member of juries at the Conservatoire Supérieur de Musique et de Danse – CNSMD in Lyon and Paris and at the Pôles Supérieurs. He gives master classes in Italy, Germany, France and Turkey.
Composer, his catalog includes instrumental and vocal works, created at the CRR in Rennes, at the Carrière de Normandoux (Poitiers), at the Festicantus vocal festival in Bourg en Bresse, at the Hochschule in Karlsruhe, at the Théâtre de Chartres, at the Triangle de Rennes .
He owes his training at the Conservatory of Vicenza (Italy) in flute (Antonio Carraro) and composition (Paolo Giuliani), at the National Conservatory of Rueil-Malmaison (Philippe Pierlot, Jean Michel Damase), at the National Superior Conservatory of Music and Dance of Lyon (Philippe Bernold, Robert Thuillier, Sergio Menozzi, Jean Louis Capezzali), at the Haute École de Musique de Genève – baroque flute (Serge Saitta), at the Faculty of Letter and Philosophy of the University of Padua, and in alongside musicians such as flautists Aurèle Nicolet, Jean-Pierre Rampal, Glauco Cambursano, Alain Marion, Raymond Guiot, Maxence Larrieu, Conrad Klemm, Trevor Wye, Emmanuel Pahud, Barthold Kuijken, conductors François-Xavier Roth, Erst Schelle , Gilbert Amy.