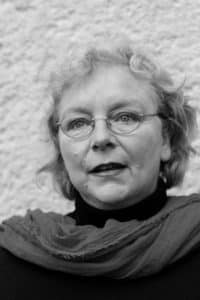 "… I listened to her wonderfully lyrical, thoughtful – soulful, without any extravagance idiosyncratic Bach explorations and discoveries… In some of the slower pieces (in contrast to most interpretations at least) her sometimes extremely cautious tempi and the associated living space for the melodic and rhetorical thoughts made some pieces appear to me in a completely different, above all warmer light…" (Peter Cossé, Neue Züricher Zeitung).
Gerlinde Otto gives concerts as a soloist and chamber musician in many European and Asian countries. She has been a frequent guest for radio and television recordings. Her repertoire includes works from the baroque to the modern. Her special love is the work of Bach and Viennese classicism.
In addition, she also likes to devote herself to little-known compositions. She has played the Bach Variations by Carl Reinicke, Felix Mendelssohn's First Symphony in his own transcription for violin, cello and piano four hands, and Antonio Salieri's Piano Concerto in B flat major. She was one of the actors in the extensive documentary "history of the fortepiano", which was broadcast by Austrian television. Her recording of the Well-Tempered Clavier Volume 2 on the Genuin label also received great international attention.
Paul Badura-Skoda wrote about her recording of the Well-Tempered Clavier: "…I have to say that your recording is one of the best recent recordings."
In addition to her busy concert schedule, Gerlinde Otto has been invited as a guest professor from all over the world. She is a regular guest in China, Korea and many European countries and fascinates young pianists with her inspirational power and detail-oriented work.
After initial musical training with Dr. Rudolf Neumann at the special school for music in her home town of Halle, Gerlinde Otto studied at the music academies in Weimar (Prof. Rolf-Dieter Arens), Leipzig (Prof. Heinz Volger) and Warsaw (Prof. Lidia Kozubek). She received lasting inspiration in master classes from Helene Boschi, Jakob Lateiner and, last but not least, from Eva and Paul Badura-Skoda, with whom she had been friends for many years.
Since 1993, Gerlinde Otto has held a professorship at the Franz Liszt Academy of Music in Weimar and now teaches there as Emerita. Young pianists from all over the world study in her class, including many prize winners from national and international competitions. Many of them are now actively involved in outstanding positions themselves.
As a juror, Gerlinde Otto is regularly invited to numerous national and international competitions. Until 2021 she was the artistic director of the International Franz Liszt Competition Bayreuth – Weimar.