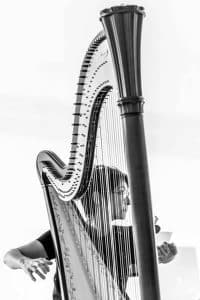 Professor at the National Conservatory of Music and Dance in Paris since 1995, Geneviève Létang teaches more particularly contemporary music, orchestral repertoire and sight reading. She regularly collaborates with the music academies of Belgrade, London, Geneva, Amsterdam, São Paulo, Buffalo (United States), Szeged (Hungary) …
Strongly committed to the music of our time, Geneviève Létang, member of the Linea ensemble since 2007, participates in the creation of today's great composers such as Heinz Holliger, Peter Eötvös, Brian Ferneyhough, Raphaël Cendo …
In order to explore other universes, the national stage Le Manège welcomes in February 2019, Philippe Arlaud, opera director, and Geneviève Létang for their joint creation: "Variations Molière – Cordes sensible" October 2019, Estovest festival in Turin, gave itself the creation of the Italian composer Edoardo Dadone "Quadernino d'estate" ("Summer notebook") for quartet and harp, in company of NEXT- New Ensemble Xenia Turin.
The 2021 edition of the Estovest -Giovanni Musiche- festival will see the world premiere of Riccardo Perugini's piece for harp: Valse Parabolique. Dans l'intervalle, en Août 2021 la fondation de l'abbaye de Royaumont donnera vie aux créations de Raphaël Cendo: Coffin Bubbles Blue, Michele Foresi et à la jeune génération de compositeurs du XXIe siècle.
Geneviève Létang is a member of the jury of the "5th International Harp Competition" which took place from November 26 to December 2 in Szeged (Hungary) and, if all goes well on our beautiful planet, she will be part of the jury of the "9th International Competition or Duos witz Harp "in Cieszyn (Poland) in April 2022.
Photo : Stefano di Marco