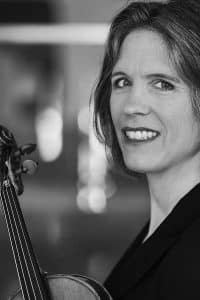 Bonn-born violinist Felicia Terpitz was awarded prizes and scholarships early on. She was a scholarship holder of the Studienstiftung des deutschen Volkes, the DAAD and the PE subsidies. She won prizes and awards at the German Music Competition in 1992, the International Chamber Music Competition Trapani 1993, the International Violin Competition Hannover "Joseph Joachim" in 1997 and the Violin Competition of the Kulturkreis in the BDI in 1998.
Felicia Terpitz studied with Edward Zienkowski in Cologne and Wanda Wilkomirska in Mannheim and completed her studies with the improvement classes ; cycle de perfectionnement of the Conservatoire National Supérieur de Musique et de Danse in Paris.
As a scholarship holder of the German Music Competition, she started her concert career as a young soloist with the Federal Selection of Concerts for Young Artists. During this time first radio productions were produced by the German radio stations WDR, NDR and BR and she was invited as a soloist to numerous festivals and concerts. With German and Polish orchestras (the radio symphony orchestras Hannover, Katowice, Prague, and Luxembourg, the Hamburg Symphony Orchestra, the Bergische Symphoniker, the Thuringia Philharmonic, the Stadttheater Regensburg, the Philharmonic Orchestra Cottbus, the Neubrandenburg Philharmonic, the Northwest German Philharmonic Herford, the Filharmonia Opolska and the Filharmonia Sudecka), she performed the most famous violin concertos of classical and romantic music, but increasingly included in her repertoire also violin concertos of the 20th century and presented them to her audience with great success. In collaboration with the conductors Terje Mikkelsen, Romely Pfund, Reinhard Petersen and Marcel Wengler, interpretations of violin concertos by Kurt Weill, Carl Amadeus Hartmann, Paul Hindemith, Hans Werner Henze, Sergey Prokofiev and Dmitrij Shostakovich were made.
Radio productions and concert recordings of the violinist are available at various national and international radio stations (WDR, NDR, BR, SWR, MDR and Radio France and Radio Luxembourg). Among them are works by Hans Werner Henze (Violin Concerto No. 1 with the orchestre philharmonique de luxembourg), Sergej Prokofieff (1st Violin Concerto with the Bergische Symphoniker), Béla Bartók (Sonata for violin solo), Karol Szymanowski (Mythen op. 30) and Claude Debussy (violin sonata). In co production with the WDR Cologne CDs with works (mainly first recordings) of u.a. Robert Fuchs, Albert Roussel, Jean Martinon and André Jolivet.
After many years as a soloist and chamber musician Felicia Terpitz is concertmaster of the Nordwestdeutsche Philharmonie Herford.
In the years 2002-2015, the violinist was a full-time teacher for violin at the Musikakademie Kassel, where she devoted herself to intensive instrumental training of budding professional musicians.
Since 2011 she has been teaching violin at the Hochschule für Musik Detmold.
Since 2020, she has been also teaching violin didactics at Hochschule für Musik Detmold.