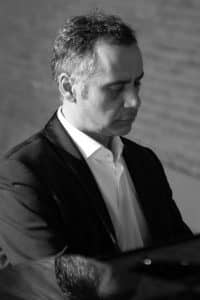 David Levy obtained his two diplomas in graduate and performance in Derrick Wyndham's class at Royal Northern College of Music in 1987. He improved with Yvonne Lefébure in Paris. He continued his studies with Alain Planes in Paris, then at the Hochshule für Musik in Hanover with Karl heinz Kämmerling where he obtained his Konzertexam diploma.
He was invited to play at the Mozarteum Academy in Salzburg and at the E.P.T.A. European Conference of the Holland Music Festival and he gave several performances in England and Germany. Then in 1990, after winning the Maisie Lewis Award, he gave his first recital in London at Purcell Hall.
Other concerts follow one another at the Schleswig Holstein Festival, at the Kammermusiktage Mettlach in Saarland, at the Bratislava Music Festival with the Nord Deutsche Rundfunk from Hanover, as well as performances on radio, television on the ZDF, the BBC and France Music. He has also performed in Central America, and in the United States in Boston, Miami and New York.
David Levy recorded his first CD, Rachmaninoff's 2nd Sonata and Liszt's Sonata. He inaugurated the Music Festival at the Villa Domergue in Cannes, then he was invited back to give a recital for 2 pianos. He often performed in this formation, notably with the Ballet of Nice Opera orchestra.
He played the complete 24 preludes and fugues to celebrate Shostakovich's 100th birthday in 2007. Then in 2011, he was invited to Moscow at the Gnessine Academy to perform this work again.
Since 2013, he has been performing in concerts and masterclasses at Tel Aviv Conservatory and again at Gnessine Academy. He has given concerts at the Festival des Nuits du Suquet in Cannes as a soloist and with the Cannes orchestra with Wolfgang Doerner.
In 2015, he performed the Goldberg Variations at the Rostropovitch Festival in Baku, Azerbaijan. In 2016 he brought together in the same concert The Art of the Fugue and Bach's Goldberg Variations. He was invited again at Gnessine Academy in 2017 to play Bach's 48 Fugue Preludes.
In 2018, he had his first concert tour in China. He continued all of Bach's pieces in Cannes, as well as the 6 partitas this year.
David Levy is a professor and coordinator of Keyboards at the Cannes Conservatory and guest professor at the Gnessine Academy in Moscow. Since 2018 he has also been teaching at the Royal Conservatory of Brussels.
His second passion is Bridge, which he has been practicing for years at the international level, notably the final of the World Championship in Montreal in 2002.