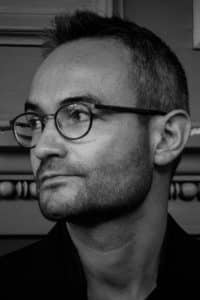 Graduated from the Hautes Écoles de Musique in Geneva and Berlin and also from the High Superior Conservatory – CNSMD in Paris, Antoine Didry-Demarle leads a career as an eclectic pianist combining recitals, conferences, chamber music, educational activities and performances. Noticed from the age of 12 at the National Léopold Bellan Competition in Paris, Antoine Didry-Demarle benefits from the advice of Philippe Keler, François-Frédéric Guy, Brigitte Engerer, Elisabeth Athanassova, Laszlo Simon. In 2005, at the Victoria Hall in Geneva, he produced the world premiere of the Feuillets inédits pour piano et ondes-Martenot by Messiaen. He performs at the Grand Théâtre de Genève, at the Tonhalle in Zürich and at the RSI Auditorium in Lugano under the baton of great conductors such as Laurent Gay, Stefan Ashburry and Heinz Holliger.
Winner of the 2003 International Piano Competition Citta di Moncalieri, Antoine Didry-Demarle is the guest of many festivals which bring him to France, Switzerland, Belgium, Germany, Portugal, Italy, Armenia, Mali, Mauritius. In 2006, he benefited from the support of several private foundations and the musical sponsorship of Société Générale to carry out the Listening/Inventing/Partager project at the Bamako Conservatory in Mali. His tastes for nature and contemporary language naturally lead him to the music of John Cage, whose complete Sonatas and Interludes for prepared piano he recorded. The following year he founded the Duo Métamorphoses with the Italian pianist Andrea Corazziari. The two pianists appear regularly on Swiss radio and television in remarkable performances.
In 2010, Antoine Didry-Demarle recorded the CD Images Croisées for BecarProd, around the piano works of Debussy, Brahms and Liszt. Member of the Trio Thalberg since 2012, he now devotes a large part of his activity to chamber music and extraordinary projects. For example, he recently distinguished himself by playing in the heart of the Serpiano forest during the full performance of Olivier Messiaen's Catalog d'Oiseaux.
An insatiable explorer, Antoine Didry-Demarle is also an experienced adventurer whose expeditions, most often carried out in complete autonomy, have taken him to the four corners of the world.
Holder of the French pedagogical state diploma – Certificate of Aptitude, Antoine Didry-Demarle is a piano teacher at the Charles Munch Conservatory – Paris 11. He is regularly asked to give lectures-concerts in universities.