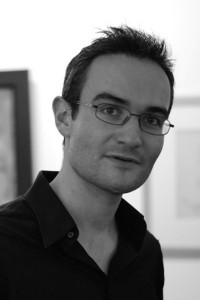 Antoine Didry-Demarle was born in 1982 in Valenciennes (France). He began his musical studies at 5 years old at Denain Conservatory and pursued at Cambrai National Conservatory in Philippe Keler class.
At the age of 12, Antoine obtained the First Excellence Prize at the Léopold Bellan National Competition in Paris. In 1996, he obtained both piano and chamber music Gold Prizes in Cambrai National Conservatory.
Then, he improved with such great pianists as Brigitte Engerer, Raymond Trouard, François-Frédéric Guy, Georges Pludermacher and Alexander Mazdar, and he win, at 17 years old, the Grand Interprétation Prize of Cambrai town.
In 1999, Antoine Didry-Demarle enters at Geneva Superior Conservatory (HEM-Swiss) where he obtains the Superior Diploma with the highest distinction in Elisabeth Athanassova class. In 2002, he improves at Berlin Arts University (Germany) in Lazslo Simon class. At 21 years old, Antoine Didry-Demarle wan the First Prize in « Citta di Moncalieri » – Italy, International Competition. Since then, he regularly plays piano recital or chamber music as a soloist in France, Swiss, Germany, Italy and Portugal. He has also perfomed in Africa and Armenia.
Antoine Didry-Demarle has been invited in such famous festivals as Archipel, Young Talents, Piano Concertus, Estivales.. He plays with the Jean-Jacques Balet « Ensemble Contemporain » (Janacek journées at Geneva Theater) and he also performed under Laurent Gay and Stefan Ashburry conducting at Geneva Victoria Hall and Zürich Tonhalle.
Antoine Didry-Demarle has played for the first time in Europe the « Feuillets inédits for piano and ondes-Martenot » from Messiaen. His repertory is large, going from Bach to contemporary music (he played all Sonatas and Interludes for piano prepared by John Cage).
In 2005, Antoine Didry-Demarle obtains a grant from Agostini foundation and the same year he also obtains his concert Diploma at Geneva High superior Conservatory.
Holder of a grant from « Mécénat Musical – Société Générale » in 2006, Antoine leads with succes the project Listen/Invent/ Share at Bamako Conservatory (Mali). He is also the author of the work « John Cage : for a new listening… ».
In 2007, Antoine Didry-Demarle founded the Duo Métamorphoses with the Italian pianist Andrea Corazziari. In marsh 2010, his first recording has been dedicated to Brahms, Liszt and Debussy.
Antoine Didry-Demarle is piano teacher at Charles Munch Conservatory (Paris – XI).