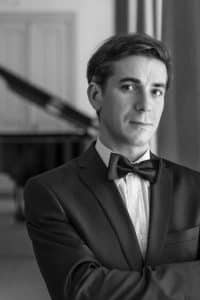 Pianist Alexander Reitenbach studied in tradition of Russian, German and French piano schools with professors Oleg Maisenberg, Friedemann Rieger and Guenther Reinhold – one of the last students Alfred Cortots and Olivier Messiaens.
Alexander Reitenbach graduated from Stuttgart Academy of Music with distinction.
Alexanders repertoire reaches from Bartock, which he also performs on organ and harpsichord, to contemporary music, from piano solo works to chamber music in all instrumentations.
Alexander Reitenbach was guest to festivals and recitals to numerous countries in Europe and Asia. He performed with Thailand Philharmonic, Beijing Symphony, Korea Symphony, European Festival and Stuttgart State Orchestra. Last Season Alexander was invited to perform Chopin's F Minor and Tchaikovsky's G Major concertos in Stuttgart and Amsterdam.
Alexander Reitenbach teaches piano at Stuttgart Hochschule für Musik and Arts.
He also gives masterclasses in Germany, Poland, France and Switzerland (2019 – Jeune Chopin, Martigny).
One of Alexander Reitenbach teaching emphases lies in particular in individual approach in analyzing and solving technical problems, corresponding to technic means used by composers themselves; for learning a functionally natural behaviour in piano playing after Peter Feuchtwanger and Günther Reinhold, which not only allows to minimize unnecessary muscle tension and stress during performances but also to prevent or cure playing-related disorders.