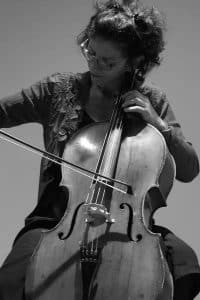 Agnès Vesterman leads a career as a soloist and chamber musician. She was the quartetist of the Arpeggione quartet from 1988 to 2001 with which she shared thirteen years of international concert tours in the most prestigious venues and festivals in Europe.
In 2006, she formed a duet with Garth Knox, on viola and viola d'amore. Gladly mixing repertoires ranging from baroque to contemporary, they recorded with ECM D'amore (2008), Saltarello (2012) with percussionist Sylvain Lemêtre, and then volume n ° 30 of the Book of Angels Leonard (2016). . Also at ECM, she engraves with cellist Anja Lechner the duets of Valentin Silvestrov Hieroglyphen der Nacht (2017) nominated for the Grammy Awards.
Agnès Vesterman has given numerous solo recitals, including the complete suites by J.S. Bach, and programs that combine baroque, classical and contemporary repertoire for solo cello in an original way: The Wandering Cello or Conversations with John Cage.
Very interested in improvisation and composition, she composes the music for several shows and sets to music the film "A Woman from Tokyo" by Japanese filmmaker Y. Ozu. In 2016, she obtained the Master of Research and Creation at the University of Paris Est for composition work on film and text.
Chamber music teacher at the National Conservatory of Music in Paris, cello teacher at the National Regional Conservatory of Boulogne-Billancourt and trainer in the Superior Poles, Agnès Vesterman has developed a pedagogy which draws its sources from the great European traditions and which is open to innovations.
After studying with Michel Strauss at the Conservatoire de Boulogne-Billancourt, she obtained a scholarship from the Ministry of Foreign Affairs in 1984 to study in United States with great masters, at Yale University with Aldo Parisot and the Tokyo Quartet and then with Harvey Shapiro, professor at the Juilliard School in New York, heir to a great tradition of interpreters (Alexanian -assistant of Casals), Toscanini, Rubinstein, Primrose, Feuerman …).
Back in France, she joined the Arpeggione Quartet in 1988, which perfected with the Amadeus Quartet, the Alban Berg Quartet, Eugen Lener of the Kolisch Quartet (who created the Schönberg Quartets) and Walter Levin of the Lasalle Quartet. She obtained the Certificate of Aptitude for Teaching at the CNSMDP.
Agnès Vesterman was one of the first in France to take an interest in bodily techniques (Alexander Technique, Taichi Chuan, Rhythmic Dalcroze) and their application to stringed instruments. She has intervened in many training sessions around the body and the instrument. (Poles Sup, Cnsmdp, Medicine of the art …).
Since 2003, she has participated in improvisation projects and regularly leads improvisation and creation workshops.
Her reflection on the integration of these techniques into the teaching of classical music was the result of a thesis entitled "The attitude of improvisation in instrumental learning" (available at the Cnsmdp).