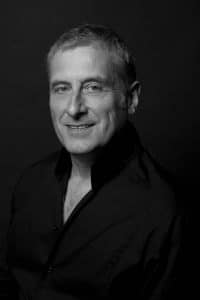 Baryton-basse
Vincent Le Texier studied singing with the baritone Udo Reinemann, before entering the School of Lyric Art at the Paris Opera. During these formative years, other encounters would have a lasting impact on her work: those of Christa Ludwig, Elisabeth Schwartzkopf, Hans Hotter and Walter Berry.
He sang his first Golaud in Pelléas et Mélisande by Debussy in Moscow under the direction of Manuel Rosenthal, then on the occasion of Impressions de Pelléas staged by Peter Brook. This role will mark his career: he will perform it many times both in France, notably at the Paris Opera and the Lyon Opera, and abroad (Leipzig, Gothenburg, Ankara, Istanbul, Damascus, Budapest, São Paulo, Essen, Tokyo).
Vincent Le Texier has more than a hundred roles in his particularly wide repertoire which have taken him around the world to the greatest venues (Paris, Lyon, Bordeaux, Brussels, Geneva, San Francisco, Milan, Rome, Madrid, Barcelona, ​​Amsterdam) and the biggest festivals (Aix en Provence, Salzburg, Berlioz Festival). Guided by the musical and theatrical interest of the roles he tackles, he travels through nearly three centuries of opera, from the Baroque (Rameau, Marais) to current creations (Aperghis, Constant, Dalbavie, Giraud, Hurel, Lavandier, Manoury , Rautaavara, Saariaho, Testi), via Mozart (Leporello, Don Giovanni, Count Almaviva, Don Alfonso), the 19th century (Mephistopheles in La Damnation de Faust by Berlioz and in Faust by Gounod, the four devils in Tales of 'Hoffmann by Offenbach, Basilio in The Barber of Seville by Rossini, Filippo II in Don Carlo by Verdi, Scarpia in Tosca by Puccini, the title role in Der Fliegende Holländer by Wagner).
In the repertoire of the 20th century, Vincent Le Texier distinguished himself in several roles, which he interpreted notably at the Paris Opera: the title role of Wozzeck by Alban Berg, Jochanaan in Salomé by Richard Strauss, Jaroslav Prus and Saviol Dikoi in The Makropoulos Affair and in Katia Kabanova by Janacek, Don Estoban in Der Zwerg by Zemlinsky. Another title role profoundly marked his career: that of Saint François d'Assise by Olivier Messiaen, which he sang in Paris (Salle Pleyel), Madrid and Tokyo for the Japanese premiere of the work under the direction of Sylvain Cambrelaing. : this production was crowned with the Prize for the best classical music event 2017 in Japan and was the subject of a discographic edition.
Vincent Le Texier is regularly invited to give master classes in France: High superior conservatories – CNSMD Paris, CNSMD Lyon, Ecole Normale de Paris, National conservatories : CRR de Paris, Young Choir of Paris, Conservatory Nadia and Lili Boulanger – Paris 9, conservatory of Montreuil… He also participated in the creation of two works directed by Joël Pommerat: Pinocchio by Philippe Boesmans (Festival d'Aix en Provence, Théâtre de la Monnaie, Opéra de Bordeaux) and l'Inondation by Francesco Filidei (Opéra Comique).
Among his projects for the coming seasons, we can note that for the first time he will be Don Bartolo in Le Nozze di Figaro by Mozart at the Esplanade de Saint Etienne, Balthazar in La favorite by Donizetti at the Opéra de Bordeaux, the Cardinal Campeggio in Henry VIII by Saint Saëns at the Théâtre de La Monnaie, Luther and Crespel in Les Contes d'Hoffmann at the Opéra Bastille and that he will sing Arkel again in Modena and Piacenza.
Vincent Le Texier regularly performs in recital, notably with the pianist Ancuza Aprodu (Limoges, Saint Etienne and Nice Operas, Berlioz Festival, Antidogma Festival, etc.), both in the field of lied (Schubert, Loewe, Schumann, Brahms, Wolf, Mahler) than melody (David, Saint Saëns, Massenet, Fauré, Debussy, Ravel).
He is at the head of an important discography, often in rare répertoires (Marais, Grétry, Rameau, Ropartz, Bloch, Boulanger, Dutilleux…). Among the latest releases, we can mention the DVDs of Médée de Cherubini (K.Warlikowski / C.Rousset) at Bel Air Classiques, Pelléas et Mélisande (B.Wilson / P.Jordan) at Naive, the same work (Lehnhoff / Soltesz) at Arthaus Musik, The Clay Pigeons by P.Hurel (M.Clément /T.Ceccherini) at Eole Records as well as Pinocchio's CD (P.Davin).
Vincent Le Texier is regularly invited to give master classes in France: High superior conservatories – CNSMD Paris, CNSMD Lyon, Ecole Normale de Paris, National conservatories : CRR de Paris, Young Choir of Paris, Conservatory Nadia and Lili Boulanger – Paris 9, conservatory of Montreuil…