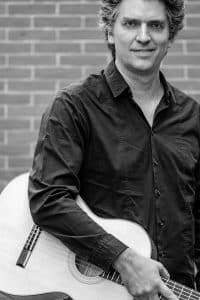 At the age of 8 years, Tillmann Reinbeck began to play the guitar. In his artistic works, he engages with music of the past centuries with as much enthusiasm and thoroughness as with contemporary music.
He studied at the Music Academy in Trossingen, Alicante and Hamburg with Luis Martin Diego, Michael Raman Hampel, José Tomas and Olaf van Gonnissen.
He is member of the renown Aleph Guitar quartet which is invited to perform at important festivals and has premiered or first-recorded numerous works.
He plays concerts and holds master classes at numerous festivals. His concert tours led him to places like New York, Madrid, Mexico City, Lisbon, Seoul, Taipeh, Oslo, Zurich or Berlin. He has performed in concert halls like Elbphilharmonie Hamburg, Konzerthaus Berlin or Casa da Música Porto.
He has been giving masterclasses amongst others at festivals like GFA (USA), Gitarrenfestspiele Nürtingen (Germany), Time of music (Finland).
Tillmann Reinbeck is professor for guitar at the State University for Music and Drama Stuttgart, where he passionately teaches.