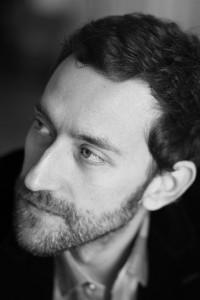 « This Greek pianist is captivating in Iannis Xenakis' Herma » Olivier Bellamy – Le Monde de la Musique
« He is really a "medium" that hears the music interiorly, and delivers it with passion. » Michèle Fizaine – Le Midi Libre
Stephanos Thomopoulos is a pianist acknowledged for the originality of his repertoire, chosen on the basis of profound meditation on music and other art forms. Considering music to be a territory without stylistic or historical borders, he performs works ranging from canonical composers,
who have fascinated him since childhood, including Beethoven, Liszt, Debussy, Ravel and Rachmaninov, to contemporary ones, such as Iannis Xenakis, Thomas Adès, Philip Glass, Georges Koumendakis and Gérard Pesson.
After studying in National Conservatory of Thessalonica in Greece and the Musikhochschule of Cologne in Germany, in the class of Arbo Valdma, Stephanos Thomopoulos worked with Jacques Rouvier and Marie Françoise Bucquet in the Conservatoire National Supérieur de Musique in Paris, obtaining the Diplôme de Formation Supérieure with the highest grade in 2001.
He worked thereafter with Hakon Austbo in the Conservatorium of Amsterdam, where he obtained a Masters in performance in 2005. He has also been tutored by eminent artists, such as Aldo Ciccolini, Dimitri Bashkirov, John O'Conor, as well as Leon Fleischer.
He is a laureate of international competitions (Holland Music Sessions, Maria Canals, Hellexpo, Jugend Musiziert) and distinguished by the Blüthner Foundation, the Yamaha Music Foundation, the Kempff Foundation and the Tokyo Foundation.
Stephanos Thomopoulos has been playing in numerous countries in Europe, the United States, Brazil, Japan, Turkey, Egypt, Ukraine and in venues, including the Athens Music Megaron, the Amsterdam Concertgebouw, the ancient theatre of Epidaurus, the Cecilia Mireiles Hall in Rio de Janeiro, the Alti Hall in Kyoto, the Salle Gaveau and the Cité de la Musique in Paris.
He is regularly invited to play with all major Greek orchestras, as well as the national orchestras of Belgrade, Odessa, Cyprus, the Netherlands Chamber Orchestra and the Cairo Opera House Orchestra.
He has played in international festivals, such as the New Masters on tour series in Amsterdam, Piano à Auxerres, the Hellenic Festival, Les Dominicains de Haute Alsace, the Dimitria Festival in Salonica, the Georges Bizet Festival in Bougival, Santander Music Encounters etc.
Among his favourite chamber music partners are the Arditti Quartet and Patrice Fontanarosa.
His taste for experimental projects and his curiosity for different forms of artistic expression have brought him to contribute musically to Heinrich von Kleist's La Marquise d'Ô, directed by Lukas Hemleb and produced by the Théâtre Gérard Philippe and the Maison de la Culture d'Amiens, or to create with Tal Isaac Hadad the performance «Le piano et le salon de musique», in the FIAC of October 2011. In February 2010, he also participated in the adaptation by Hervé Lacombe of the Arlesienne into a theatrical tale in the Musée d'Orsay.
He has recorded works of Alexander Scriabin for the Mécénat Musical de la Société Générale, and works of Manos Hadjidakis for the Italian foundation CIMA. His last CD, recorded in 2011 thanks to the Meyer Foundation, includes the whole oeuvre of Iannis Xenakis for solo piano, as well as Synaphaï, Xenakis' legendary first piano concerto.
In 2009, Stéphanos Thomopoulos is the first pianist in France to carry out a Doctorate in performance at the Conservatoire de Paris, where he does research on Xenakis' piano work under the supervision of Gerard Pesson and Jean-Yves Bosseur. The writing of this thesis has brought him to participate in concerts and conferences about Xenakis in Montreal, Paris, London, Belgrade, Leipzig, Athens, as well as to publish an article in the book Performing Xenakis, next to personalities such as Milan Kundera, Michel Tabachnik and Irvine Arditti (Pendragon Press).
Stéphanos Thomopoulos is professor at Nice CRR – Conservatoire à rayonnement régional.