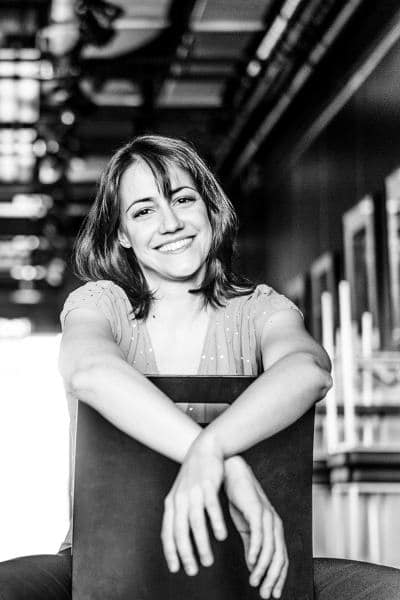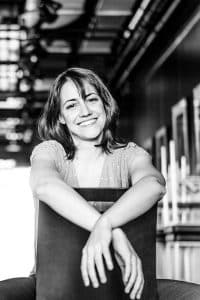 Born in 1976 in Belgrade, Lidija Bizjak studied at Paris Superior Conservatory – CNSMD with Jacques Rouvier and Maurice Bourgue and then perfected her skills with Ferenc Rados, Murray Perahia, Léon Fleisher, Arie Vardi.
Winner of the Dublin International Competition in 2000, she participated with oboist Alexeï Ogrintchouk in the "Rising Stars" tour 2000/2001 and played on prestigious stages such as: Carnegie Hall in New York, Wigmore Hall in London, Musikverein in Vienna, the Concertgebouw in Amsterdam, the Cité de la Musique in Paris and the Palais des Beaux-Arts in Brussels.
Founder of one of the most renowned piano duos in France with her sister Sanja, Lidija is also a partner of Nemanja Radulović, Régis Pasquier, David Grimal, Marina Chiche, Geneviève Laurenceau, Chanteurs des Oiseaux, Anne Queffélec, Emmanuel Strosser, Claire Désert , Marie-Josèphe Jude, Antoine Tamestit, Xavier Phillips, Michel Strauss, Philippe Muller, Romain Guyot, Ysaÿe quartet, Terpsycordes and Parisii, Moraguès quintet.
Lidija is regularly invited to play for the festivals of La Roque d'Anthéron and the Folles Journées of Nantes and Tokyo, PROMS of London, Lockenhaus, Annecy, Lille, Open Chamber Music at Prussia Cove and she plays as a soloist with the Orchester National de France, the Orchester symphonique de Radio France and the Capitole de Toulouse, Orchester Philharmonique Royal de Liège, Hong-Kong sinfonietta, Sinfonia Varsovia, Britten sinfonia, RTE of Ireland, the orchestra of Picardy, Pays de Savoie, Nancy, from Mulhouse, the Pelléas orchestra…
Her first CD dedicated to sonatas by Schubert and Schumann, released in 2006 by Lyrinx, was hailed by critics and awarded a Diapason d'or "discovery". The two discs in piano duet with her sister Sanja for "Mirare" and "Onyx" (Stravinsky the works for 4 hands and the concertos of Poulenc and Martinu with the Stuttgart Philharmonic and Radoslaw Schulz) both had the ffff of Télérama and rave international reviews including that of the prestigious "Gramophone".
After several years spent at the CRR de Caen and the CRR de Lille, Lidija currently teaches at the Gustave Charpentier Conservatory – Paris 18. She is also in charge of the artistic direction of the SOMUS festival in Sombor, Serbia, which has become one of the most influential in the region.
"Her Schumann is feverish, carried away, and her Schubert is divided as among the greatest between the hesitant and the decided, in the right proportion. Between the symphonic and the purely pianistic. Between the symphonic and the purely pianistic. Between the beautiful and the harsh. No effect, no facility. Only music. And what!"
Jacques Drillon (New Observer)
"Lidija Bizjak's piano sounds with a royal plenitude, without harshness, with a length of sound that says enough how careful this young artist is not to go against her instrument, and even more how much she is in love with it at least as much as with the music she plays…"
Alain Lompech (Diapason)
"Not the slightest comedy, a breathtaking finesse and delicacy. If concert organizers are looking for a duo of pianist sisters, they now know where to find it!"
Damien Thompson (Telegraph)
"The eternal springtime of the Rite, celebrated by tandem Bizjak and we remain knocked out. The two sisters from Belgrade take up this challenge with dazzling brilliance. As if Le Sacre was speeding through X-rays! This black and white version is better than a lesson in symphonic anatomy: practical work in musical algebra and alchemy."
Gilles Macassar (Télérama)