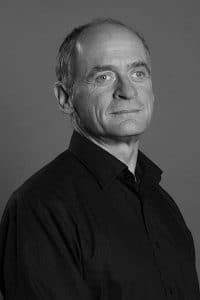 The career of Hans Egidi, a German musician who has been living in French-speaking Switzerland for a long time, is marked by versatility, curiosity and a passion for chamber music. After his violin studies in Hanover and Geneva, he perfected his skills in the field of ancient and contemporary music. He became a member of the Ensemble Contrechamps, where he discovered the practice of the viola and since 2002 has been the violist of the Sine Nomine Quartet.
He toured extensively in the United States, Latin America and countries in the Far East and performed in many major venues and festivals in Europe (Wigmore Hall in London, Concertgebouw in Amsterdam, Salle Pleyel in Paris, Auditorio Nacional de Madrid, Mozarteum Salzburg, Lucerne Festival, Schubertiades of Schwarzenberg, Biennials of the Quartet in Paris).
Hans Egidi teaches viola and chamber music at the HEMU and the Lausanne Conservatory and he is invited on several occasions as a member of the jury for international quartet competitions.