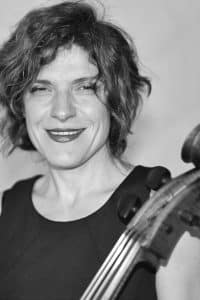 After studying at the Florence Conservatory (Italy), Cristina Bellu perfected her skills in Chicago (USA), at Roosevelt University, where she obtained a Master of Music.
At the same time, and since the age of 16, she has had an intense career as a performer, where she explores various genres and styles. From baroque music on period instruments to contemporary creation, from tango to free improvisation during theatrical performances, in chamber music as well as as a soloist, she favors little beaten paths, such as creations for cello and clarinet ensemble. that Hardy Mertens dedicated to her, or even Rodéo for cello and saxophone (also dedicated to Cristina by Garth Laurence) and does not hesitate to commission original works (for example "Design Five: double trouble" for alto saxophone and cello, commissioned to composer Patricia Morehead).
Cristina Bellu has been teaching cello didactics at the Hautes Écoles de musique of Lugano since 2008 and Vaud-Valais-Fribourg since 2010. She has also been teaching cello at Mulhouse Conservatory since 1999.
Her teaching is also inspired by the research projects she has led and still leads in the field of instrumental didactics, in particular in neuro-motricity (grant from the Swiss National Fund) and the teaching of interpretation (thesis in education sciences, University of Geneva).
Cristina plays a cello by Oreste Martini in modern music and a cello by Dino Filippi in ancient music.