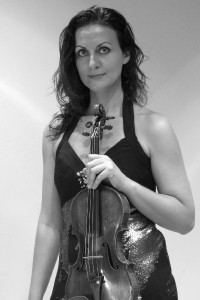 Young Laureate of the Long-Thibaud International Violin Competition and the International Violin Competition of Indianapolis, including special prizes for the best performances of Bach's Chaconne and Rochberg's Rhapsody and Prayer, Virginie Robilliard has performed with orchestras such as the St. Petersburg Symphony Orchestra, the Orchestra Philarmonique de Radio-France, the Simon Bolivar Orchestra, the Indianapolis Symphony Orchestra, Bogotá Philharmonic Orchestra, the Orchestre du Capitôle de Toulouse, Salta Symphony Orchestra in Argentina, Orquesta Sinfónica de Venezuela, San Salvador de Bahía Symphony Orchestra in Brazil, under the batons of Yuri Temirkanov, Sergiu Comissiona, Raymond Leppard, Olivier Grangean, Pascal Verrot, Yutaka Sado, Michel Plasson, Pierre Dervaux, Eduardo Diazmuñoz, Eduardo Marturet, Carlos Izcaray, Fabio Mechetti, Felipe Izcaray and Ricardo Castro among others…
She made her New York debut at the age of 19, in a critically acclaimed performance (The New York Times) of Bartók's Violin Concerto No. 2, conducted by Stanislaw Skrowaczewski at Avery Fisher Hall.
Miss Robilliard's international career has included appearances in Asia, South America, Europe, Canada and the United States, in major halls such as the Salle Pleyel, the Teresa Carreño Theater and the Théâtre des Champs-Elysées; she is regularly invited to give master classes all over the world.
Her interest to present contemporary music has brought Virginie Robilliard, with the sponsorship of the Beracasa Foundation, to commission a Sonata for Violin Solo to a brilliant Venezuelan composer, Paul Desenne. The piece was created in Caracas (1998) and London (1999). More recently, she created his "2 seasons" for chamber orchestra and violin solo, also critically acclaimed by The New York Times in 2009.
In her first CD released by the XCP label, she is joined by her brother, pianist and composer Bruno Robilliard, featuring Sonatas by Fauré, Schumann and Robilliard. In 2006, her "live" DVD with Brahms and Tchaikovsky's violin Concertos was released with the Orquesta municipal de Caracas conducted by Rodolfo Saglimbeni. In 2010, Hungaroton's label released her trio's CD with Frédéric-Vaysse-Knitter at the piano and Peter Czabo at the cello, featuring Brahms and Dvorak.
Born from a family of musicians, Virginie Robilliard gave her first public concert at the age of five. She was awarded First Prize by the Conservatoire National Supérieur de Musique de Lyon at seventeen, as a student of Jacques Ghestem, and she graduated from the Juilliard School in 1993, as a scholarship student of Dorothy Delay.
From 2001 to 2008, Virginie Robilliard, thanks to the Mozarteum Foundation, created a violin school in Caracas, Venezuela, where several of her young talented students were later accepted in European conservatories such as the CNSM in Paris, the Tibor Varga school, Hans Eisler Music School and Geneva conservatory.
Alongside his solo career, Virginie Robilliard, passionate about education, has established a violin school with the support of the Mozarteum Foundation in Venezuela where she lived for 10 years. She is currently a professor at the Music School of Lausanne in Switzerland. She is regularly invited to give master classes around the world.