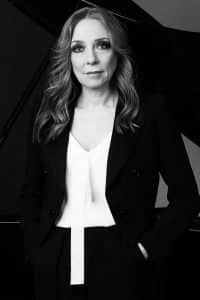 Véronique Bonnecaze is a pianist with integrity, she puts her playing at the service of poetry and sincerity. Her favorite repertoire is often composed of Chopin, Schumann, Liszt, Rachmaninov, Scriabin and Debussy, from whom she knows how to bring out the emotion, the colors, and the sound atmospheres.
Her strongly personal interpretations, her powerful commitment in concert, and her total independence within the musical world, make her a secret and original musician. Demanding artistic choices led her, for example, to record the 24 studies of Chopin which she also often performed in recital.
Véronique Bonnecaze was trained at the National Conservatory of Music in Paris in the class of Ventsislav Yankoff, where she won First Prize in Piano and Chamber Music.
As a winner and finalist of international competitions including Geneva, Mavi Marcoz, Chopin Palma de Mallorca, Jaen, Pescara, she also played in recital and with orchestra in France (Salle Gaveau, Salle Cortot, Théâtre de l'Athénée, etc.), Austria (Mozarteum Salzburg), in Germany, in Switzerland (Victoria Hall in Geneva), in the United States (Carnegie Hall in New York) but also in Belgium, Spain, Italy, Hungary, Sweden, Greece, Japan, Lebanon…
Her recording of the Twenty-Four Etudes of Chopin was praised by Harold Schonberg, a renowned music critic at the New York Times.
Her albums are regularly rewarded in the musical press, 5 Diapasons for the complete CHOPIN Sonatas in 2021 (Paraty label), Opus d'Or, 5* Classica for the DEBUSSY album (Paraty), "Maestro" from PIANISTE magazine for the Schumann-Liszt double album (Polymnie label), and the LIVE album in 2017 released by Triton…
Véronique Bonnecaze has been a piano teacher at the Ecole Normale de Musique in Paris since 2010, and she was also the artistic director of the Concerts de Midi & Demi (2012 – 2015) at the Salle Cortot.
She teaches masterclasses among others in Japan and at the MUSICALTA Academy, Cagliari, PTNA, and Musique en Graves.
She is a jury member of international competitions in France, Italy, Japan (Yokohama, Tokyo, PTNA), and is the founder of the Arcachon International Competition and the France-Americas competition.
Since 2020, she has been president of EPTA France – European Piano Teachers Association.
Some dates to remember for the 2022/2023 season:
november 25th 2023 – launch of the album « War and Peace » Works by PROKOFIEV
november 29th 2022 – Recital salle GAVEAU – Paris
October 2023 – LISZTOMANIAS Festival