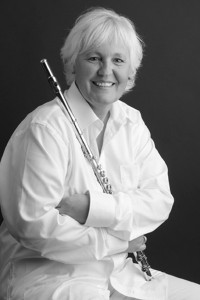 Having an eclectic career, Pascale Feuvrier is passionately engaged in all the disciplines offered by the practice of her instrument.
She has worked with some of the greatest French orchestras (French National Orchestra, Paris Opera Orchestra, Ensemble Intercontemporain …). She is also a member of several chamber music ensembles that perform both in France and abroad.
But it is certainly her vocation as a teacher who animates her even more.
Professor of flute from 1976 to 2021 at Rueil Malmaison Regional Conservatory (CRR), Pascale Feuvrier was also responsible, in the same conservatory, of a special class dédicated to students preparing International Competitions.
She is invited for Master Classes all over the world (Greece, Italy, Spain, Egypt, Morocco, Korea, Israel …). She is also regularly invited to the juries of the CNSMD competitions in Paris and Lyon.
Since her youngest age, Pascale Feuvrier studied flute with Jean-Pierre Rampal and Alain Marion. She won a first flute prize and a first prize for chamber music at the National Conservatory of Music and Dance in Paris (CNSMDP).
Also personally involved, Pascale Feuvrier was President of the French Red Cross of the local unit of Rueil Malmaison until the year 2016.