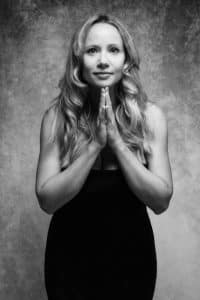 Katherine Nikitine has been teaching since a very young age, especially within her family, all of whose members were musicians. She was a piano teacher at the National Conservatory of Toulon then Montpellier, before being appointed to the Geneva Music Conservatory – CMG where she has been teaching since 2015 and coordinates keyboard classes (Piano, Organ, Harpsichord, Improvisation, Piano in grass, Piano creation) since 2019. Since 2021, she has also been teaching piano didactics for the Masters in pedagogy at the Geneva University of Music – HEM.
Many summer academies regularly invite her to teach: Flaine in 2014 as assistant to Jean-Claude Pennetier, Bourg-en-Bresse, Music at Beauregard, Music and Sails in Geneva; the chamber music masterclasses organized by the Cambristi Lemani at the Kodaly School (Geneva), at the Hindemith Foundation (Blonay), masterclasses during concerts (Montpellier on contemporary music, Offenbach competition in Berlin for which she was a jury then Masterclass teacher…) She is a regular member of the jury of national and international competitions (Berlin, Pan-African Chopin competition in Yaoundé, Geneva…).
It should also be noted that she taught the Musical Culture of the Dancer at the CRR of Toulon and gave numerous masterclasses in sub-Saharan Africa: Democratic Republic of Congo (choir direction and keyboards), Cameroon (piano, chamber music, pedagogy) , Gabon (piano).
Finally she was invited to Tokyo, Japan, at the Senzoku University for Music, to present her pedagogy for very young children, based on an oral and bodily approach to music.
Holder of two Masters (Piano and Pedagogy) at the National Superior Conservatory – CNSMD of Lyon as well as the Certificate of Aptitude in Piano and Chamber Music, Katherine Nikitine improved with Igor Lazko, Jean-Claude Pennetier, François-René Duchable, Denis Pascal, Brigitte Bouthinon -Dumas, Gery Moutier. She improved at the organ with Michel Chapuis, Marie-Louise Langlais, Sylvie Mallet and Marie-Claire Alain complete her training. She also intensively studied keyboard harmony and writing.
Katherine Nikitine has performed in concert on five continents, from Notre-Dame de Paris Cathedral to MetLife Stadium in New York, via Asia (China, Japan), New Zealand, several African countries sub-Saharan (Congo, Gabon, Cameroon), the Middle East (Lebanon), all of Europe, Canada and the United States.
Her two previous albums published by Hortus have won great critical acclaim ("Fairy Tales" piano and organ at the National Auditorium of Lyon, and "Chant d'Adieux" for cello and piano, 5 tuning forks). Her version of Chopin's Sonata with Juliette Salmona has been described by Jean-François Zygel as "one of the most convincing interpretations" of this work (La Preuve Par Z, France Inter).
The most emblematic points of Katherine Nikitine rich and varied career are perhaps her participation in the 2022 stadium tour as the opening act for the German rock group Rammstein as part of the Duo Abélard (22 concerts in front of a total of more than one million live spectators) and her recording of two Chopin concertos with chamber orchestra in Stuttgart.
Since discovering the piano-making work of Stephen Paulello, Katherine Nikitine has recorded all her albums on her Opus 102 piano. Her solo album, "Islamey", released in the winter of 2022, is a solo piano anthology by the composer Mili Balakirev.