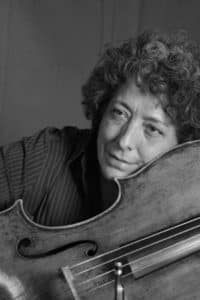 Hélène Dautry's career is atypical by the exceptional speed of its progress. Initially oriented toward a pianist education, she began the cello at the age of 15 and 5 years later she was admitted to the Paris National Superior Conservatory – CNSMD of Paris in Maurice Gendron's class.
This encounter will be the unalterable base of her progression and it will lead her to obtain a brilliant first cello prize at Paris CNSMD. She then improved by following a third Cycle at Paris CNSMD.
Hélène Dautry was a soloist of Jean-François Paillard Chamber Orchestra for 15 years alongside the violinist Gérard Jarry. She performed as a soloist with them in the most prestigious concert halls of the world.
Passionate about chamber music, Hélène Dautry has shared the stage with various exceptional musicians such as Bruno Rigutto, Elena Rozanova, Patrick Messina, Jean-Claude Vanden Eyden, the violinist Laurent-Albrecht Breuninger… She performed at the prestigious Purcell Room at the Royal Festival of London, at Wigmore Hall in London and at Salle Cortot in Paris. She also performed at La Grange au Lac in Evian with the Budapest orchestra under Peter Tfirst's conducting.
In 2016, Hélène Dautry recorded the twoBrahmssonatas with the pianist Sandra Chamoux.
She regularly plays with the pianist Frederic Vaysse-Knitter with whom she plans to record.
Hélène Dautry developed a large activity as a professor while continuing her important career as a concertist.
Holder of the French Teaching Diploma CA, she currently teaches at the Royal College of Music in London, at the Paris National Conservatory – CRR as well as at the Paris "Ecole Normale". Hélène Dautry is passionate about sharing and transmitting, which lead her to regularly give Master Classes in France, Italy, China, Belgium and England.