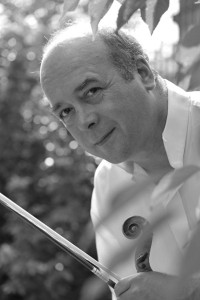 Appointed successively soloist of the Orchestra of Lyon National Opera under John Eliot Gardiner and Kent Nagano conducting and then violin soloist of Lyon National Orchestra under Emmanuel Krivine conducting, Francis Duroy develops a career as a concert artist which takes him to all continents.
From the largest halls in Japan (Tokyo, Nagoya, Osaka, Kyoto, etc.) to Carnegie Hall in New York, via the Rudolfinum in Prague (Czech Philharmonic), the Ljubljana Festival in Slovenia, the Ohrid Summer Festival in Macedonia, Italy, the United States, Norway, Korea, France…Francis Duroy is the guest of many festivals and prestigious halls and performs as a soloist with many orchestras around the world: Philharmonic orchestras of Dnipropetrovsk, kyiv (Ukraine), Baden Baden…Symphony Orchestras of Pohang (Korea), Mexico City, San Luis Potosi and Aguascalientes (Mexico), Ribeirão Preto (Brazil), Orchestra Ico Magna Grecia (Italy), State Orchestra of Romania, Orchestra of the Lyon National Opera, Avignon Provence Lyric National Orchestra…
He collaborates with many composers including Michaël Lévinas, Philippe Leroux, Wolfgang Motz and Nicolas Vérin who dedicated him the piece "Chassés croisés II" for violin and piano.
Alongside his activity as a concert performer, Francis Duroy carries out an important educational activity. He has been professor at the National Conservatory – CRR in Lyon from 1991 to 2022.
He is invited to give master classes in Asia (Japan and Korea) and in Europe and he is a jury of many international competitions.
Francis Duroy has been the founder and artistic director of Musicalta since its creation in 1993.
Francis Duroy studied the violin at the National Conservatory CRR of Saint-Maur, continued in Brussels with Maurice Raskin, then at the CNSMD in Lyon with Véda Reynolds, at the Banff Center School of Fine Arts (Canada) and perfected his skills with Zoltan Szekely and Ivry Gitlis, the violist Rafaël Hillyer, the cellist Anner Bylsma and the pianist Menahem Pressler.