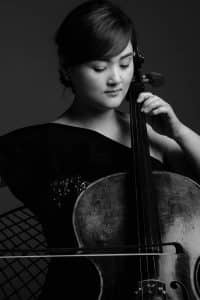 Cellist Yun cheong Boo graduated from Seoul Arts High school and graduated from Korean National University of Arts and Music, and then also graduated from Eastman School of Music in a year and a half.
She was recognized for her musical talents such as Jeju KBS Competition Grand Prize, Monthly Music Competition Gold Prize, Seoul Young Youth Chamber Music Competition…
She participated in the Tongyeong International Contemporary Music Festival and won the prize as the Ensemble Be Cello Chief. And she was invited to the Omsk International Festival this year and co-hosted with the Omsk Philharmonic.
In addition to performing with JK Ensemble, Suwon City Symphony Orchestra, Iksan City Symphony Orchestra, Jeju Symphony Orchestra and KT Orchestra in the Seoul Arts Center Concert Hall, she has performed in various stages such as the Sakha Republic National Orchestra, Russian Yakutia Opera House Orchestra and Russian Vladivostok Philharmonic. She also participated in the Elan International Music Festival, the National Orchestral Institute, and the Ishikawa Music Festival.
She is actively engaged in performing as a crew member, as well as active performances with Creo ensemble, Space ensemble, JK ensemble as a cello Soloist.
She has been a jury member of the Yakutsk International Music Competition in Russia, Omsk International Competition, T & N International Artist Competition, The World Ilbo Competition, and Gyeongju International Music Competition.
Yun cheong Boo is now an adjunct professor at Seoul Catholic University. She is also teaching at Ye Won, at Seoul Preacher, and at Sunhwa College.