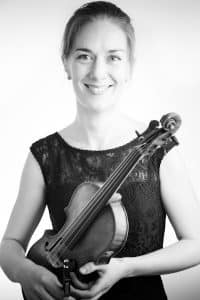 Of Swiss and Belgian nationality, Wendy Ghysels began playing the violin in Belgium with Michel Poskin, soloist at the "Orchestre de la Monnaie" in Brussels. At 14 she became the youngest of the European Union Youth Orchestra.
At the Geneva HEM, in the class of Jean Pierre Wallez, at the age of 20 she obtained a Soloist Diploma with Very Good Mention as well as the Prize for the best Violin Diploma. Then she studied at the Royal Academy of Music in London with Erich Gruenberg, obtaining a Postgraduate with Phenomenal mention, as well as the Special Award Diploma. She then studied the string quartet in the Master class of Gabor Takács-Nagy, and also obtained her Diploma in Pedagogy with honors.
She has participated in numerous master classes, notably with Zakhar Bron, Viktor Pikayzen, Itzhak Rashkovsky or Vadim Gluzman, as well as with Eberhard Feltz, Gyorgy Kurtág and members of the Berg, Hagen, Ysaye or Belcea Quartets.Wendy won the 1st Prize in the Dexia 2000 and Jong Tenuto 2001 competitions, and the Rotary 2002, Lullin 2003, Breittmayer 2005, Frieder Wald Foundation 2005, Leenaards Foundation 2005, RAM Foundation 2005 – 2007, SPES Foundation 2006, Cordelia Moses Prize 2007 , Fondation de la Vocation 2007, Fondation Dénéréaz 2010, as well as the Prix du Pour Cent Culturel Migros 2010 with the Byron Quartet.
Wendy has performed as a soloist with many orchestras, including the Orchester de la Suisse Romande at Victoria Hall in Geneva, the Geneva Chamber Orchestra at the Archipel Festival, the Lausanne Chamber Orchestra at the Paderewsky Hall in Lausanne, the " Barcelona Baroque Orchestra at the Palau de la Musica, the Strauss Philharmonic Orchestra at the Great Hall of the Brussels Opera, the Brussels International Youth Orchestra in Belgium and Italy, the Lemanic Modern Ensemble etc.
Wendy is regularly invited as solo violin, notably by the Geneva Chamber Orchestra, the Victor Hugo Symphony Orchestra of Besançon, the Saint-Etienne Opera, the Baroque Orchestra of Barcelona etc. She has played for a long time with the Ensemble Contrechamps and the Ensemble Vide.
Wendy is also a member of the Byron Quartet, which performs at Salle Paderewski, Tonhalle in Zürich, Festival de Bellerive, Concertgebouw in Amsterdam, Salon des Invalides in Paris, Conservatoire de Bruxelles, Théâtre de Jerusalem etc., and is broadcast on RSR radios. , Espace 2, DSR, France Musique, France Inter and Musiq3. The Byron Quartet recorded Shostakovich for the Aparté / Harmonia Mundi label and is preparing a new recording for the same label. As a chamber musician, Wendy is also a member of the Ensemble Archi Luminosi, and has also performed with Bruno Pasquier, Michel Lethiec, Gilles Colliard, Mélodie Zhao, David Kadouch, Brigitte Meyer, Louis Schwitzgebel-Wang, Daniel Grosgurin, or Leila Shayegh.
Along with her concert activities, Wendy is an active teacher, passionate about transmission to students. Since 2008 Wendy has been professor of violin at the Geneva Conservatory of Music.