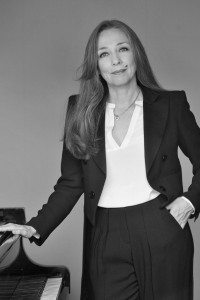 Véronique Bonnecaze puts her game at the service of poetry and sincerity. In her favorite repertoire, we often find Chopin, Schumann, Liszt, Rachmaninov, Scriabin, Debussy, whose emotion, colors and soundscapes she knows how to extract.
Her highly personal interpretations, her powerful engagement in concert, and her total independence in the musical world, make her a secret and original musician.
Artful artistic choices led her, for example, to record Chopin's 24 studies, which she has also often given in recital.
Véronique Bonnecaze made her first musical studies at the Conservatoire de Bordeaux where she came out at 14 with the highest awards. She was then admitted to the National Conservatory of Music of Paris (CNSMD), where she won a First Prize in Piano and Chamber Music.
She has been laureate and finalist of several international competitions including Geneva, Mavi Marcoz, Chopin Palma of Mallorca, Pescara, Jaen, She played in recital and with orchestra in France (Room Gaveau, Room Cortot, Theater of the Athenaeum, etc.), in Austria (Salzburg Mozarteum), Germany, Switzerland (Victoria Hall in Geneva), the United States (Carnegie Hall in New York) but also in Belgium, Spain, Italy, Hungary, Sweden, Greece , in Japan, Lebanon, etc
Her CD of 24 Chopin studies was hailed by New York Times music critic Harold C. Schonberg.
Her albums Liszt / Schumann in 2013, and Live in 2017, have been awarded "Maestro" by Pianist magazine, and her latest recording dedicated to Debussy in 2019 has also been honored with several awards (Clic from ClassiqueNews, Opus d'Or OpusHD , ***** Diapason).
The release of a new CD is scheduled for March 2021 (complete Chopin sonatas).
In addition to performing as a concert pianist, Véronique Bonnecaze is a piano professor with a class at the École normale de musique in Paris.
Shegives master classes in France, Ireland, Japan (Tokyo, Toyama, PTNA), International Academy of Cagliari, MUSICALTA.
She is also invited to international juries (Yokohama, Tokyo, Boston, Steinway, EPTA)
Passionate by the implementation of musical events, Véronique Bonnecaze was artistic director of the Midi Concerts at the Ecole Normale de Musique in Paris (Salle Cortot) between 2012 and 2015 and then with the International Piano Competition of Arcachon, the musical moments "Harmonies du soir" at the Hotel Plaza Athénée in Paris, the "Musical Emotions" cycle of concerts at the Cercle France-Amériques in Paris, the Academy / Festival "Musique à Biscarrosse", the International Competition France-Amériques in 2018, which brings together nearly 160 candidates in 2019, as well as the Piano-Easter festival in Biscarrosse, whose first edition will take place in 2020.
In 2018, Véronique Bonnecaze was appointed President of EPTA France (European Association of Piano Teachers).