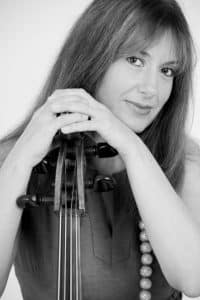 Vélitchka Yotcheva is one of the most talented French-Canadian cellists of her generation. She has a distinguished career as a soloist, chamber musician and teacher. During her studies, she inherited the best traditions of the Russian cello school represented by M. Rostropovitch and S. Kozolupov.
Born in Stara Zagora, Bulgaria, Vélitchka Yotcheva began her studies at the age of five with Professor Tacho Tachev. At 18, she left for Moscow at the Tchaikovsky Conservatory, where she worked for five years in the class of Marina Tchaikovskaya (former pupil and assistant of Mr. Rostropovich) and later under the direction of Professor Valentin Feigin. In the string quartet class, she studies with Alexandre Korchagin (cellist of the Shostakovich Quartet). In 1992, she graduated from the Tchaikovsky Conservatory of Moscow with a Master of Arts degree.
Vélitchka Yotcheva emigrated to Canada in 1995 and obtained her PhD in 2000 at the Université de Montréal, under the direction of Yuli Turovsky. Two-time winner of national competitions in Bulgaria, she won the 1996 International Competition of the Orford Arts Center (Canada).
Vélitchka Yotcheva gave several concerts in Russia, Bulgaria, France, Canada and the United States.
She performs as a soloist with orchestra and recital, but also in duet with pianist Patrice Laré. These performances have been highly acclaimed by the public and critics. Passionate about chamber music, she founded the Montreal Chamber Music Society, of which she is the artistic director.
She has participated in prestigious festivals and series of concerts such as, the Mont-Tremblant Music Festival (Quebec), the Upper Laurentians Chamber Music Festival (Quebec), the Trestler House Summer Festival ( Quebec) the International Chamber Music Festival of Niagara (Ontario), the Alexandria Festival (Ontario), the Weathersfield Music Festival (Vermont), the Pro Musica Society (Montreal), the Montreal Chamber Music Society, the Chamber Music Academy (Ontario). These concerts were broadcasted several times on Radio Canada.
In Bulgaria, she participated in the Sofia Musical Weeks, the Varna International Summer Festival and the International Chamber Music Festivals in Plovdiv and Stara Zagora.
In Central America, she was the guest of the International Bravissimo Festival in Guatemala City. More recently Vélitchka Yotcheva again participated in the Musical Weeks of Sofia (Bulgaria). In France, Vélitchka. Yotcheva participated in the Pianistic Nights of Aix en Provence, the Musicalta Festival in Alsace and she made a concert tour in French Polynesia.
Vélitchka Yotcheva is also a recognized pedagogue, she regularly gives Master classes in Bulgaria, Canada and United States. Vélitchka Yotcheva teaches at summer academies in Canada and United States, at ISMA (International School of Musical Arts – Niagara, Ontario), at MIMC (Montreal International Music Camp), and at Weathersfield Music Festival (Vermont). .
Her first album was released in February 2004 , made with the Montreal Rachmaninov Trio, under ATMAclassique (Canada) label. A second disc has been released in April 2005, under the label Disques XXI-21 (Canada), and contains virtuosic pieces for cello and piano. In the spring of 2005, Vélitchka Yotcheva recorded the complete J. S. Bach Suites, still on Disks XXI-21. This double album, was released in December 2005. To mark this event, Vélitchka Yotcheva performed in concert Bach's Six Suites on December 11, 2005 at the Chapel of Good Shepherd in Montreal. In April 2008, a CD devoted to the cello and piano sonatas of C. Franck and J. Brahms was released and in early 2010, the complete trio of Rachmaninov with violinist Jean Sébastien Roy and pianist Patrice Laré.
In 2008 Vélitchka Yotcheva created the I Cellisti Orchestra, a set of twelve cellos. The orchestra performs successfully throughout North America and makes its debut album in 2012.
Since September 2016 Vélitchka Yotcheva lives in Monaco.
"The piano is fair and sensitive, the cello soft and graceful" Christophe Danzin, The World of Music, France – May 2004 
"Trained at the Russian school, her playing reminds us of Pablo Casals and the cathedral type sound, Tortelier way. An expressive game marked by a lot of breath, a certain tension that is not unpleasant and above all, a beautiful recording that makes us imagine the artist at work. An inspired gift. "
Christophe Rodriguez, The Journal of Montreal – December 2005 
"Vélitchka Yotcheva seduced by a great coherence and a poetic approach" Christophe Rodriguez, The Journal of Montreal – March 2008