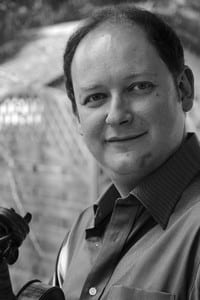 Prize-winner of many prestigious international violin competitions such as N. Paganini Competition in Genoa, P.I.Tchaikovsky Competition in Moscow, R. Lipizer Competition in Gorizia; winner of International Competition in Portogruaro (Italy), Juventus Award (by the European Council), N. and L. Boulanger Foundation Award and Natexis Banque Populaire Foundation Award in Paris, O. and V. Ritter Foundation Award in Hamburg and G. Cziffra Foundation Award (France).
Born in November 1975, he started to study the violin at the age of six and gave his first concert when he was only eight. He finished the famous Tchaikovsky Central Music School in Moscow for the gifted children, First Prize unanimously at the National Superior Conservatory of Music in Lyon, then he completed his post-graduate studies at the High Conservatory of Music in Cologne, Artist Certificate at the Southern Methodist University Meadows School of Arts in Dallas, Chigiana Music Academy in Siena and always obtained the highest honours.
Among his teachers were Boris Belkin, Ivry Gitlis, Edouard Schmieder, Herman Krebbers, Mihaela Martin and Irina Botchkova.
He has performed with Moscow Symphony Orchestra, North Nederland Symphony Orchestra, Mexico Symphony Orchestra, Kharkov Philharmonic, Orchestra di Teatro di Genova, Freiburg Symphony Orchestra, Orchestra di Padova e del Veneto, Ulianovsk Philharmonic, Gunma Chamber Orchestra, Vasteras Sinfonietta, Camerata of Coahuila, Musica Vitae Chamber Orchestra, Basse-Normandie, Garde Républicaine, Yaroslavl Philharmonic, Akademik Baskent (Ankara), Plano Symphony Orchestra and many others, conducted by Michel Tabachnik, Jean-Pierre Wallez, Jean Deroyer, Anton Nanut, Peter Csaba, Paolo Peloso, Enrique Batiz, Naoto Otomo etc.
Vadim Tchijik gives recitals in France and all the world. He plays in the biggest halls such as : Théâtre des Champs-Elysées, Théâtre du Châtelet, Salle Gaveau in Paris, Concertgebow in Amsterdam, Dvorak Hall in Prague, Big Hall of Tchaikovsky Conservatory in Moscou, Suntory Hall and Hamarikyu Asahi Hall in Tokyo, Philharmonie in Cologne and Konzerthaus in Freiburg, Palace of Culture in Sofia, Philharmonie in Kiev, Del Prado Museum in Madrid, Palace of Fine Arts in Mexico…
He is very often invited to participate in prestigious music festivals among which Festival Radio France and Montpellier, Pablo Casals… in France and all over the world in Japan Music festival, Okayama Music Festival, Young Artists Festival in Los Angeles, Festival of Guil-Durance, Music Art Festival in Grenoble, International Festival in Portogruaro, Settimane Musicale di Ravello, Salon of the Arts in Sofia, Felicja Blumental Festival in Tel Aviv, Euro Musica Vitae Festival in Sweden, 5 de Mayo in Puebla, Juventus…
He performs in various radio and TV broadcasts in many countries (France Musique, Radio Classique, NHK, France 3, Mezzo, RAI, Japanese, Russian, Swedish television) and his concerts were broadcasted all over the Europe, USA and Asia. He recorded several CD's for Lyrinx ("Recommandé" by Classica Magazine, "Coup de Coeur" by Piano Magazine), Exton ("One of the best CD's of the Month" by The Record Geijutsu (Japan), Polymnie and DOCdata Benelux labels. In 2006 he participates in Japan at the recording of a series of CD dedicated to the 250th Mozart Anniversary.
He played chamber music with Pieter Wispelwey, Emmanuel Pahud, Jean-Claude Pennetier, Marielle Nordmann, Philippe Bernold, David Geringas, Cedric Tiberghien, Marc Coppey, Michel Arignon, Alexander Melnikov, Alban Gerhardt, Michel Lethiec, Dominique De Williencourt, François Salque, Yves Henry etc. His concerts always receive highest acclamations by critics.
He is a founder and director of the string ensemble "Les Virtuoses" and director of the competition for strings "Les Virtuoses du Coeur
In 2004, the famous French magazine "Diapason" dedicates one page to Vadim Tchijik entitled "Already Maestro" and in 2010, he is on the cover of the famous "String" Magazine with an exclusive interview of six pages.
Vadim Tchijik is currently Professor of violin at Toulouse Conservatory  – CRR – and gives master-classes in Europe, in South America and in Asia. He also edited the violin part of music by Saint-Saens, Ravel and Franck for "Zen On" music edition in Japan.