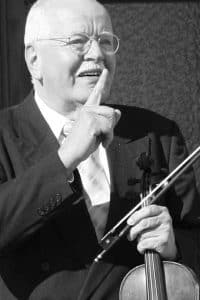 Ulf Klausenitzer graduated his academic studies of music in Frankfurt am Main, Köln and Basel, with Henryk Szeryng and Leonid Kogan as well as the "Amadeus-quartet".
Beside his additional business as artistic director and intendant of the Bavarian chamber
orchestra, which he has founded and has been conducting since 1979, his musical career as
conductor and violinist brought him toghether with numerous excellent orchestras,
conductors and musicians worldwide.
His career was accompanied by Mikis Theodorakis, Daniel Barenboim, Christian Thielemann, Pierre Boulez and moreover by Morten Feldman as a partner of the chamber music and Arvo Pärt and Karl-Heinz Stockhausen who composed for him.
Ulf Klausenitzer has been concertmaster in Mannheim, Nuremberg and Saarbrücken.
He has been for many years a member and chairman of the Bayreuther festival.
As chamber musician, Ulf Klausenitzer became awarded of the international music competition Genf. For his activities as conductor and soloist he was awarded by numerous cultural prizes as for example the Bayerischer Staatsförderpreis, the Siemens-Kulturförderpreis and the cultural prize of the district Unterfranken.
In 2012 Ulf Klausenitzer receives the Bata-cultural prize of the czech and slovakian republik due to his operations for the European integration.
Together with Yehudi Menuhin Ulf Klausenitzer founded the organisation LMN (LiveMusicNow) Franken, which supports highly gifted students with concerts.
Since 2008 he has been leading the India-German-Confluence-Festival, the All-Indian-Violin-Competition and has conducted premieres in China, Africa, Japan and India with the music of Chr. W.Gluck.
Ulf Klausenitzer acts as conductor, violinist and also as a director of master classes worldwide. He is a violin professor at the Hochschule für Musik in Nuremberg in Germany.