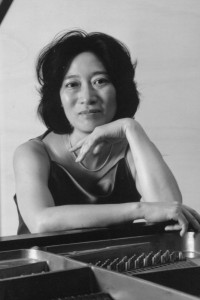 After studying at the State University of the Arts in Tokyo where she was born, the pianist Tomoko Ogasawara continued her studies in Germany at the University of the Arts in Berlin and the University of Music in Freiburg im Breisgau, where she received the solo diploma with honors and went on to win 1st Prize in the German Hochschulwettbewerb.
Among her teachers were Georg Sava, Tibor Hazay and Georgy Sebok who influenced her artistic development and led her to early success, for example as finalist in the international competitions "Maria Canals" / Barcelona and " Clara Haskil" / Montreux.
Since then concert engagements have taken Tomoko Ogasawara to the concert halls of the international music world (such as Berlin, Montreux, London, Paris, Tokyo, Jerusalem, Bangkok, Shanghai). She has played concerts together with Albrecht Mayer, Jörg Widmann and Tabea Zimmermann and regularly plays with the principals and leading musicians of the Berlin Philharmonic Orchestra, the Bamberg Symphony Orchestra, the Bavarian Symphony Orchestra and the SWR Orchestra also in the context of chamber music formations, such as the piano trio "Franconia", the ensemble "Abraxas" and at international festivals such as "Affinis" in Japan.
As soloist Tomoko Ogasawara has played, among others, with the Symphony Orchestra Berlin, Lausanne Chamber Orchestra, Bad Reichenhall Philharmonic Orchestra and the Chamber Philharmonic Orchestra Bamberg. She is featured in numerous radio broadcasts as well as CD recordings. In the season 2006/2007 Ogasawara performed the complete cycle of piano sonatas by W. A. Mozart.
Currently Tomoko Ogasawara passes on her musical experience through the teaching position she holds at the University of Music in Freiburg im Breisgau as well as regular master classes in Tokyo and Yokohama. Students of hers have won prizes in both national and international competitions.