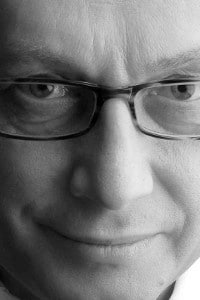 T
omasz Herbut was born in Lublin/Poland,where he began his first piano lessons when he was six years old. He entered the local Conservatory at an early age, graduating with honors in 1979. His studies then took him to Warsaw's "F.Chopin Music University", where he completed his diploma with  distinction as a member of the piano class of Bronis
ł
awa Kawalla in 1984. Next he improved his musical skills at the  "Zurich University of the Arts" in  Homero Francesch's master class – obtaining the Soloist Diploma in 1987- and in Irwin Gage's Song Interpretation class. At the same time he worked with Nikita Magaloff, who played a significant role in his artistic development.
Through intensive scholary work Tomasz Herbut possesses an extraordinary wide spectrum of knowledge of both the Romantic literature for the piano and the lied repertoire. His programmes encompass such forgotten composers as Lekeu, Zarebski, Paderewski as well as Chausson, Szymanowski or Bloch among others. In 1986 he was a prizewinner of the XIX. Festival of Young Soloists in Bordeaux/France and one year later he was honoured by the city of Zurich "Artist's Award".
Since 1977 Tomasz Herbut has performed Japan, Korea, South America and in most European countries, including Switzerland, where he lives since 1984. He is a regular soloist as well as a chamber music artist at such international festivals as "The Flandern Festival", "The Menuhin Festival Gstaad", "The Vratislavia Cantans Festival" or "The Chopin Festival Paris".Next to his solo performances he is an acclaimed chamber music player performing with the best musicians of the country like "Varsovia String Quartet", "Camerata String Quartet" or "Silesian String Quartet", "Sine Nomine Quartet" and such muscian as Patrick Demenga or Paul Meyer among others. He is also recognised as an authority on Song accompaniment, partnering such great Polish and foreign singers as Jadwiga Rappé, Urszula Kryger, Josepg Calleja or Rudolf Rosen. He has made also numerous recordings for both television and radio in many European countries. He is a prizewinner of the Polish Music Prize "Grand Prix du Disque FRYDERYK" .
In his adopted homeland he performs on the such stages as "Victoria Hall Geneva", "Tonhalle Zurich" or "Casino Berne" among others.
Since 1990 the pianist has also dedicated himself to teaching, leading the piano class at the "Berne University of the Arts" in Switzerland. Many of his students are prizewinners of national and international competitions (Honens/Calgary; Toronto; Minneapolis/St.Paul; Bach/Würzburg; 20th Century/Orleans; among others). He gives Master Classes all over Europe as well as in both Americas and Asia. He is often requested to serve on the Jury of international competitions. He is also President and artistic Director of "Berne Chopin Society".