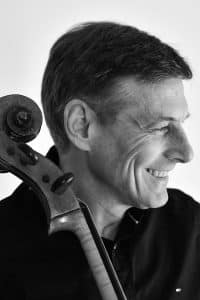 Tilmann Wick began to play the cello at the age of 6. At 16, he made his debut as soloist with the Osnabrück Symphony Orchestra, performing Saint-Saens' Cello Concerto in A minor. By the age of 26 he was giving 80 concerts a year all over the world, and when he turned 36 he was offered a cello professorship at the Hanover University of Music, Theatre & Media. His pronounced holistic approach not only to music, makes him a strong personality as teacher, juror, coach for high performance, as a lateral thinker, as a visionary leader, as mountain climber and nature lover.
Tilmann Wick is a soloist. He draws on concert experience gained with Claudio Abbado, Herbert von Karajan, Wolfgang Sawallisch, Sir Georg Solti, Rudolf Buchbinder, Pascal Devoyon, Bernd Glemser, Dae-Jin Kim, Matthias Kirschnereit, Igor Levit, Christian Zacharias, Christian Altenburger, Dong-Suk Kang, Shlomo Mintz, Ingolf Turban, and Frank Peter Zimmermann. Highlights in his career include Dvorak's Cello Concerto with the Hallé Orchestra of Manchester, Tchaikovsky's Rococo Variations with the Bavarian State Orchestra of Munich, the world premiere of Ernst Helmuth Flammer's cello concerto Capriccio with the MDR Symphony Orchestra of Leipzig. Further focal points include performances in New York's Carnegie Hall, in Boston, Washington D.C., Los Angeles, Montreal, Santiago de Chile, in Melbourne, Seoul, Pretoria, Tunis, Casablanca, Alger, London, Brussels, Paris, San Sebastián, Novosibirsk, Krasnojarsk, Tomsk, Lucerne, in Zurich's Tonhalle, Berlin's Schauspielhaus, Frankfurt's Alte Oper, Munich's Herkulessaal, and Cologne's Philharmonie. His debuts were also memorable occasions, as at the Salzburg Festival, the Berlin Festival (at the invitation of Claudio Abbado), the Ludwigsburg Castle Festival, the Schleswig-Holstein Music Festival, the "Musiktreffen St. Moritz", the Festival de l'Orangerie de Sceaux, the Festival MusicAlp Courchevel and Tignes, the Portogruaro Music Festival, the Dartington International Festival of Music, the Euro Arts Music Festival in Korea, Austria and Germany, Spain's Festival Quincena Musical, and the Kronberg Academy in Germany.
Tilmann Wick is a perfectionist. His CD recordings produced by EMI classics, audite, MD+G, and ambitus, are treasured by connoisseurs the world over and praised by critics as reference recordings. His technique is a modern, innovative one that he takes still further in order to demonstrate the complete scope of the spacious sound spectrum of the violoncello. Son CD unique des œuvres complètes pour violoncelle solo de Britten documente son sens prononcé de la couleur et de la ressource tonale.
Tilmann Wick is distinguished in the sense that he has received many awards in his career, ranging from a Concert Artist Diploma examination passed "with distinction" in the early days, to two renowned first prizes gained later on in Spain and New York.
Tilmann Wick has remained a person with a deep concern for other people, despite his impressive career. Thus it is only logical that he teaches, both in master classes in the USA, Canada, Russia, China, Singapore, Korea, Japan, Australia, Sweden, Serbia, Poland, Spain, Italy, Switzerland, England, France, Austria and Germany (i.a. Kronberg Academy), and at the Hanover Music Academy, where he has been assuming the cello professorship since 1998.
He serves as a jury member in international cello competitions like the Lutoslawski Cello Competition in Warsaw, the Instrumental Competition in Markneukirchen or the International Hindemith Competition Berlin.