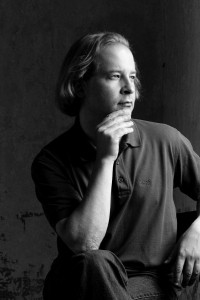 In the past few years Tilman Krämer emerged to be one of the most interesting pianists of his generation. Besides his many concerts he received internationol attention for his recordings of Brahms' early piano compositions. Yet only a child he already received piano lessons from Paul Buck in Stuttgart. Later he was a student of Konrad Elser at the music conservatory in Lübeck and of Leonid Brumberg in Vienna. There he received artistic impulses from his work together with Elisabeth Leonskaja. His participation in several master classes of Oleg Maisenberg, Karl-Heinz Kämmerling, James Tocco and Andrzei Jasinski complete his musical education.
Having won many prizes in several piano competitons he is prizewinner of the international piano competition in Madrid and the Possehl foundation in Lübeck both in the year 1996. Parallel to his solistic career he also dedicates his interest towards chamber music, being taught by Walter Levin and Henry Meyer from LaSalle Quartett, same as Thomas Kakuska from the Alban Berg Quartett. Together with members of the Alban Berg and the Artemis quartett, Torleif Thedéen, Daishin Kashimoto, Martin Ostertag, Vytautas Sondeckis and the M. Nostitz Quartett, prague, he performed in many concerts. In 2015 he performed chamber music concerts with Bruno Schneider and Jean-Guihen Queyras.
During his piano studies he was scholar of "jeunesse musicale", "Deutscher Akademischer Austauschdienst" and "Studienstiftung des deutschen Volkes". He is often invited to international festivals of music such as the Schleswig-Holstein- and Usedomer festival of music, the "List en Provence" and Ankara Music festival, "Forum Musikae" Madrid, the chamber music festival at castle Elmau, the "Markgräfler Musikherbst", the Brahms-festival Lübeck und the "Oberstdorfer Musiksommer". Since his debut 1999 in Japan he gives a regular guest performance i.a. within the Schubertiade Japan and the Osaka Chamber orchestral. In the year 2005 he went on his first tour through the People's Republic of China achieving great succes.
Due to his numerous music productions he came into contact with the most important broadcasting and television companies of Germany, Japan and China. In 2000 he produced his first CD playing Schumann an Chopin for the record label Venus Music. His recordings of the complete "Lieder ohne Worte" were highly praised by critics ("Referenzeinspielung", Piano News 4/2002). Later in 2005 he produced a CD comprising piano compositions of Johannes Brahms in cooperation with the German Radio Cologne (Deutschland Radio Köln) and received best reviews for it ([translated] "one of the most important Brahms recordings of the last few years" , "eine der wichtigsten Brahmsinterpretationen der letzten jahre", klassic.com). 2005 another CD comprising Brahms' sonatas op. 1 and op. 2 was published by Coviello Classics in coproduction with the bavarian broadcasting company "Bayrischer Rundfunk". The pianist Oleg Maisenberg commented euphorically on Tilman Krämer's Brahms playing describing it as great in every aspect, very sensitive, played with superior ease, beautiful sound, clear thougts and then again with great inspiration and sense for Brahms. Similar to the press, saying that is rather seldom to listen to the early works of Brahms with such great enjoyment, NDR Kultur, or the WDR 3 describing the music as packing, emotional and intelligently feautured as very little heard before and the Kultiversum naming him as a pianist of rare come quality of artistic options, together with an even rarer abiltiy to place its use. Same as his first recording of Brahms music, it was awarded the "Supersonic Award" of the European music magazine "Pizzicato" and nominated for the "Preis der deutschen Schalplattenkritik" 2010. In 2015 he published a CD also by Covielleo Classics with music by Volker David Kirchner, one of the importants german composers our time.
From 2001 until 2007 he instructed piano at the music conservatory in Lübeck. Since April 2007 he is head of a piano class at the music conservatory in Freiburg and co-director of the head for the pianosection. He leads Masterclasses in Germany, France, Japan, Spain and since 2012 annually at the Forum Musikae (Academia de Musica) in Madrid. He is jurymember of international competitions in Germany and Japan (Schubert Competition).