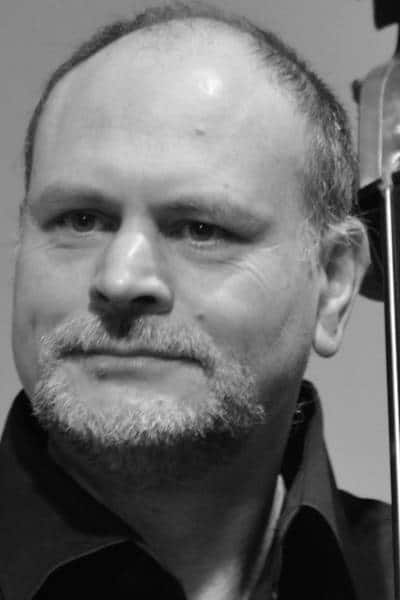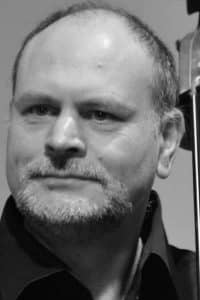 Thierry Barbé was born in Metz in 1961. After a scientific baccalaureate, piano and double bass studies, he entered the C.N.S.M.D. from Paris where he obtained his first prizes for double bass in the class of Jean-Marc Rollez, for musical analysis in the class of Jacques Castérède, as well as a first "accessit" in harmony in the class of Jean-Claude Raynaud, of history of music in the class of Brigitte François-Sappey, counterpoint in the class of Jean-Claude Henry. At the same time, he studied electro-acoustic music with Michel Zbar, in Boulogne, and conducting with Gérard Devos, in Rueil-Malmaison.
In 1983, Thierry joined the Paris National Opera Orchestra, where he is now solo double bass. Thierry gives numerous concerts, recitals with piano, master classes, in more than twenty-four countries, and records numerous recordings including Nomade, which combines creations, jazz standards and works from the classical repertoire, the DVD French Impressions dedicated to French composers, performs the Mikroncerto for double bass and orchestra by Richard Dubugnon at the Capbreton Festival… highlighting a lyrical and expressive double bass in all musical styles, from baroque to contemporary.
Passionate about the various techniques of the double bass in the world, Thierry is President of A.B.C.D.F. succeeding Pierre Hellouin, (Association of french double bass players), he is a member of the board of the Bass Europe Society and of the ISB, (International Society of Bassists), but also a member of the Association Médecine des Arts and of l 'E.S.T.A. He animated the French double bass for more than 10 years as editor of the review "ABCDF", creating the annual mini double bass competitions, "Haut les basses", and in 2008, always with the fabulous team of the A.B.C.D.F. and his colleague Riccardo Del Fra, he is organizing an exceptional world double bass convention at the C.N.S.M.D. de Paris: Bass'2008, with more than eighty recitals and lectures dedicated to this instrument. He thus initiated a process of better exchanges in Europe: Bass'2010 in Berlin, Bass'2012 in Copenhagen, as well as in Amsterdam, Prague, Lucca …
In 1992, Thierry obtained his Certificate of Aptitude (french teaching diploma) as a double bass teacher. He first taught at Paris conservatories, then at the National C.R.R. of Saint-Maur (since 1987) as well as at the National Superior C.N.S.M.D. of Paris (since 1999).
He has also been a trainer and "tutor" for the double bass C.A. and is currently artistic director of the Biarritz International Bass Academy summer internship (since 2015).
He is giving master classes all over the world and his orchestral experience with the greatest conductors allows him to take part in the juries of international competitions and orchestras around the world.
Thierry wants to promote the double bass for everyone, even for the smallest hand sizes. Its technical pedagogy is adapted to the parameters of the student and not the other way around. Having toured in master classes all over the world, he has toured world techniques, all French and German bow outfits, all types of fingerings depending on the hand. Musically, he defends expression throughout the repertoire (orchestral, soloist according to the styles of the times, contemporary …). He teaches at all levels, from beginner to doctorate, prepares for orchestral and international competitions, auditions, etc.
He will be delighted to share and meet all students of all nationalities.