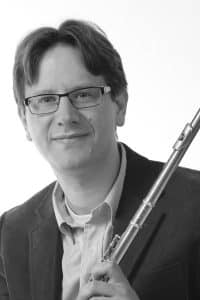 Stefan Albers studied with Prof. Renate Greiss-Armin at the Hochschule für Musik in Karlsruhe where he obtained his educational and artistic diplomas with distinction. Then he improved in Geneva "Haute Ecole de musique" with Prof. Jacques Zoon and obtained his soloist diploma with success. Stefan Albers also had the opportunity to improve with such great flutist as Aurele Nicolet, Jean-Claude Gerard, Klaus Thunemann, Ingo Goritzki and Heinz Holliger, Andrea Lieberknecht, Barthold Kuijken and Jeanne Baxtresser.
Collecting early an excellent chamber music experience with a scholarship from he Villa Musica Foundation, Stefan Albers also experienced soon the stage playing with orchestras. First invited in various youth-orchestras, such as the Schleswig-Holstein Musikfestival or the Gustav-Mahler-Jugendorchester, he became a member of the Orchestra academy of the Opera House in Zürich and then obtained the Solo Flutist position at the Orchestra of the Opera House in Würzburg.
As a Soloist, Stefan Albers is a welcome guest in the orchestras in Frankfurt,
Nürnberg, Düsseldorf and Meiningen and in various Festival such as the Würzburg Flute Festival.
Stefan Albers has also intensive educational activities: he is Flute Professor at the Musikhochschule Würzburg.
Also involved in lectureship at the Frankfurt University of Music and Performing Arts, he gives masterclasses in Germany and South Korea.