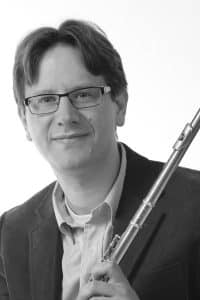 Stefan Albers studied from 1999 to 2005 in Karlsruhe with Prof. Renate Greiss-Armin. He finished his educational and artistic courses with distinction. During this period he was invited to various youth-orchestras, such as the Schleswig-Holstein Musikfestival or the Gustav-Mahler-Jugendorchesters.
In 2002 and 2003 Stefan Albers also was a member of the orchestra academy of the opera house in Zürich.
Stefan Albers collected excellent chamber music experience with a scholarship by the Villa Musica foundation. From 2002 to 2006 he had the opportunity to work with distinguished lecturers like Aurele Nicolet, Jean-Claude Gerard, Klaus Thunemann, Ingo Goritzki and Heinz Holliger.
Furthermore, he attended flute masterclasses with Andrea Lieberknecht, Barthold Kuijken and Jeanne Baxtresser.
From 2005 to 2007 Stefan Albers did his soloist diploma in Geneva with Prof. Jaques Zoon. During this period, he obtained his solo flutist position at the orchestra of the opera house in Würzburg.
Stefan Albers continues to be a welcome guest as solo flutist in the orchestras in Frankfurt,
Nürnberg, Düsseldorf and Meiningen.
His intensive educational activities started in 2006 with a lectureship at the University of Würzburg. For twelve years Stefan Albers taught students at the educational faculty. By invitation of the German flute society he gave concerts and a masterclass at the flute festival in Würzburg in 2014.
In 2015 and 2017 Stefan Albers was invited for concerts and masterclasses in South Korea.
Since 2018 he has the opportunity to represent the professorship at the University of Music,
Würzburg. At the same time, he was asked to support the flute class of Prof. Stephanie Winker at the Frankfurt University of Music and Performing Arts with a lectureship.