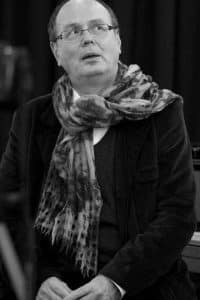 Pianist – Lied and melody interpretation
After his piano studies at the Strasbourg Conservatory, notably in the class of Dominique Merlet, he obtained, at the same time as the aggregation of mathematics, several prizes in national and European competitions. He then specialized in Vienna in Lied and melody accompaniment with Dagobert Buchholz, professor at the Hochschule, and received advice from masters such as Ruben Lifschitz, Walter Moore, Hans Hotter, Suzanne Danco. He won the Forum de la Mélodie et du Lied in Paris, where the jury, chaired by Régine Crespin, distinguished him with a special mention.
Since then, Serge Cyferstein willingly performs as a soloist but nevertheless favors the recital of melodies and Lieder. He thus accompanies many French singers on the main national stages, including the Opéra Bastille, the Opéra National de Lyon, the Opéra de Monte-Carlo, the Théâtre Royal de Versailles, the Musée d'Orsay, the Toulouse Capitole. He has also performed at numerous festivals in France and abroad, notably in Saint-Denis, Aix-en-Provence, the Folle Journée de Nantes, the Flâneries musicales de Reims, Geneva, Ghent, Munich, Dresden, Wiesbaden, Basel, Rome (Villa Medici), kyiv, Kharkov, Warsaw, Minsk, Saint Petersburg, Moscow…
He recorded with the mezzo-soprano Florence Katz a CD devoted to the melodies of Darius Milhaud's youth and hailed by international critics. With the soprano Sophie Marin-Degor and the mezzo Claire Brua, he also recorded for the Alpha label a CD of duet melodies by Gounod, Saint-Saëns and Lalo, distinguished by the "Editor's choice" of Gramophone, then a second disc dedicated to Donizetti's duet melodies.
As part of the Royaumont sessions, Serge Cyferstein assisted on several occasions Lorraine Nubar and Daniel Ferro, singing teachers at the Juilliard School, as well as Alain Garichot, director and acting teacher. He also hosted several summer workshops alongside countertenor Robert Expert.
Serge Cyferstein is regularly invited to give master classes in interpretation for singers or vocal-piano duos in France and abroad (Tom Jobim Conservatory in São Paulo, CNSMD in Lyon, Higher Academy of Music in Minsk, conservatories in Rueil- Malmaison, Montpellier, Paris…).
For several years, Serge Cyferstein has been teaching professional or professional singers and pianists the duo interpretation of the repertoire of Lied and melody, within the framework of the Pôle Supérieur de Paris-Boulogne-Billancourt (PSPBB) and the conservatory with radiation Boulogne-Billancourt regional office.
Holder of the Director's Aptitude Certificate, he directed several conservatories before taking over the management of the pedagogy department at the National Conservatory of Music and Dance in Paris (CNSMDP).