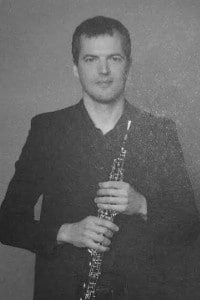 Born on April the 6, 1974 in Hamburg, Germany, Sébastien Giebler began his musical studies with S. Haerrig at the National Conservatory – CRR in Metz where he obtained a first oboe prize unanimously in 1992. He continued his studies with Y. Poucel at the National Conservatory – CRR  of Boulogne Billancourt where he obtained a 1st Oboe Prize in 1994.
He subsequently improved at the Musikhochschule in Freiburg (Germany) in the class of H. Holliger before being admitted to the CNSMD in Lyon where he obtained his National Diploma of Advanced Musical Studies in Oboe in the class of J.-C. Gayot and G. Laroche in 1998.
Sébastien Giebler is winner of numerous international competitions: in 1998, he was semi-finalist of the International Competition of Music Performance of Geneva, in 1999 he is semi-finalist of the international competition "pacem in terris" of bayreuth and in 2000 he is finalist of the 6th International Oboe Competition in Tokyo.
Sébastien Giebler is 1st Oboe solo of the OSSEL – Symphonic Orchestra of Saint Etienne Loire.
He has performed with numerous orchestras such as the New Philharmonic Orchestra of Radio France, the "Orchestre National de France", the "Orchestre de Paris", the "Orchestre National d' Ile de France" and the Mahler Chamber Orchestra.
Holder of the proficiency certificate of oboe teacher, Sébastien Giebler is professor of oboe at the CRR of Saint-Etienne since 2009.