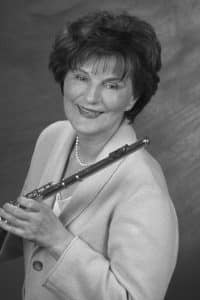 Ruth Wentorf began her studies at the University of Music and Performing Arts in Frankfurt am Main with Professor W. Richter. After winning a DAAD scholarship to study chamber music in Sweden, she continued her studies in Hamburg with Professor G. Zoeller. Further studies led her to André Jaunet in Zurich.
She taught at the University of Music in Freiburg and since 2002, she has been teaching flute and chamber music at the University of Music in Würzburg.
She also teaches in the context of master classes in Europe and Asia and is active internationally as a juror at competitions.
Her lively style of music-making has led her to participate in many festivals, such as the Würzburg Mozart Festival, the Mozart Festival of the German Mozart Society, as well as festivals in Jerusalem and Shanghai, and more. The flutist is particularly interested in contemporary music. She has performed numerous world premieres of works by Kurt Hessenberg, Peter Förtig, Manos Tsangaris and Christoph Wünsch, among others.
As a connoisseur of Toru Takemitsu's music, she has been invited as an interpreter and teacher to festivals of contemporary music and has recorded his works.
In various music magazines (Tibia, Das Orchester, Üben und Musizieren, Flöte aktuell) she writes articles on flute technique and interpretation of music.
Ruth Wentorf is the chair of the German Flute Society (Deutsche Gesellschaft für Flöte e.V.) and editor of the magazine "Flöte aktuell".
Ruth Wentorf is also a Miyazawa International Artist with an Alto-ST.