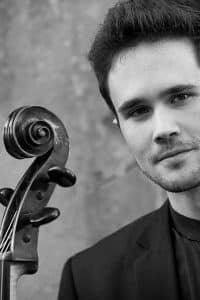 Born in Geneva in 1990, Raphaël Abeille studied with professors such as Ophélie Gaillard, Marcio Carneiro, François Guye and François Abeille.
He has won several awards at the Swiss Music Competition for Youth, the Marescotti Fellowship (2011), the Vidoudez Prize (2012), and the St-Jean Orchestra Competition for Young Soloists. On this occasion he performed in 2009 Robert Schumann's Cello Concerto in A minor and Beethoven's Triple Concerto in 2015.
In 2011, he has the chance to meet Simon Bouveret, Charlotte Magnien and Anais Renard, with whom he founded the Galaad quartet. Benefiting from the teaching of Mr. Gabor Takacs-Nagy, this young string quartet receives in 2013 the support of the Milou Foundation.
The same year, Raphaël Abeille won the Orpheus Swiss Chamber Music Competition in Basel. A year later, he joined Miguel Da Silva's class at the Conservatoire de Paris and in 2016 he received the Saugy Daisy Award for his performance of the Ligeti Quartet.
Interested in practicing chamber music in all its forms, Raphaël Abeille is also, since its creation in 2012, a solo member of the Camerata du Léman, a young professional training playing without conductor. In 2017, after 5 years of existence and more than 50 concerts, he recorded with his ensemble the "Pictures of an Exhibition" by Moussorgsky in an original transcription for fifteen string voices.
In 2015, he founded the Rafael Quintet, with François Payet-Labonne, Aurianne Philippe, Jeanne Camus and Alexandra Kondo.
A passionate pedagogue, Raphaël Abeille teaches cello at the Geneva Conservatory, an institution in which he regularly performs in chamber music or as a soloist (Concerto de Dvoràk in 2017).
A lover of literature, he also studied Modern French Literature at the University of Geneva.