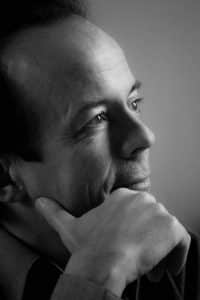 After brilliant studies in Aix-en-Provence (A. SPADARRO and S. BADUEL), then in Boulogne-Billancourt and CNSMD of Lyon (J. GHESTEM), Pierre-Olivier Queyras obtained in 1985 the DNESM (1st prize).
He studied in Germany at the Hochschule für Musik in Freiburg-im-Breisgau with R. KUSSMAUL, Konzertmeister at the Philharmonie Berlin, and he obtained a Superior diploma as well as a special prize at the international Mendelssohn competition in Berlin in 1987. He completed his training with an academy within the Youth Orchestra of the European Community (ECYO) and then as a guest on an international tour of the European Chamber Orchestra in August 1987, and he plays under the conducting of Sir Georges SOLTI and Claudio ABBADO.
Pierre-Olivier Queyras began his career as principal violin of the Montéclair Chamber Orchestra, the OPF, and then the french Orchester of "Pays de Savoie" under the conducting of Tibor VARGA (1990-1992).
Pierre-Olivier Queyras shares his passion for chamber music with numerous performers, particularly at the Rencontres Musicales de Haute-Provence, where he has been both founder and artistic director for more than twenty-five years. The DUMKY TRIO (6 international awards) with which he plays both in France and abroad, has obtained 5 Diapasons and many awards for his latest CD, an integral trio of Dvorak, published in 2006.
From 1994 to 2002, soloist of the ensemble FA and invited in many festivals as well as by the EIC, he participated in the recording of several CDs and the creation of numerous works and musical performances with actors and dancers.
Pierre-Olivier Queyras is currently a full professor at CRR Cergy-Pontoise and Rueil-Malmaison and he is a lecturer in various academies and festivals in France and in Banff (Canada).