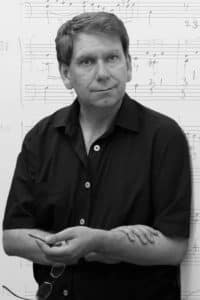 Paul Coker was born in 1959 in London. He studied at Yehudi Menuhin School and then at the Royal College of Music. Among them were Vlado Perlemuter and Nadia Boulanger. He also attended Alfred Brendel's private education.
A recipient of numerous awards, including the Jackson Master Award in Boston, he was also named Best Musician of the Year by the BBC in 1978.
His concert career began in 1978 with his participation in several international festivals. He has performed with many major orchestras including the Berlin Philharmonic, the Royal Philharmonic Orchestra, the English Chamber Orchestra, the Tonhalle de Zürich, the Belgian National Symphony and the Chamber Orchestra of Europe.
At the age of 20, he played for the first time with Yehudi Menuhin: it was the beginning of a series of more than two hundred recitals around the world with the master. Together, for ten years, they performed on all the world stages, giving the whole repertoire for violin and piano.
Paul Coker is a chamber music lover and has collaborated with Pierre Amoyal, Joshua Bell, Nigel Kennedy, Raphaël Oleg, Lorand Fenyves, Alberto Lysy, Arnold Steinhardt, Norbert Brainin, Catherine Jaccottet, Steven Isserlis, Thomas Demenga, Heinrich Schiff, Gary Karr and Benny Goodman.
Paul Coker has been teaching piano since 1995 at the Geneva University of Music "Haute Ecole de Musique".