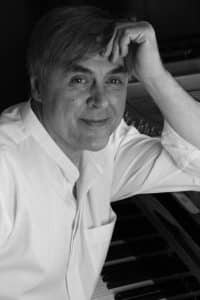 The British music magazine "The Gramophone" reviewed Oleg Marshev's recording of Prokofiev music as "one of the most authoritative and impassioned performances on disc so far".. His interpretation of the "War" trilogy has been awarded the prestigious accolade "Classic CD Choice" against such competitors as Richter, Berman, Ashkenazy.
Born in Baku, former USSR, OLEG MARSHEV trained with Valentina Aristova at the Gnesin School for Highly Gifted Children and with Mikhail Voskresensky at the Moscow Conservatory where he completed his Performance Doctorate gaining the Diploma with Honor. Marshev is thus a direct representative of the fifth generation of Russian pianism since Liszt, through Alexander Siloti, Konstantin Igumnov and Voskresensky's teacher, Lev Oborin.
Resident in Italy since 1991, Marshev has received awards in several international piano competitions in Canada, Italy, Portugal, Spain, USA, including 4 first prizes. The illustrious competition victories have confirmed the artist's reputation as one of the most talented Russian pianists of his generation.
1991 saw his New York debut with a highly acclaimed recital at the Lincoln Center's Alice Tully Hall. The following year he appeared at the Amsterdam Concertgebouw which led to other invitations to perform at this prestigious hall. Since then he has performed throughout the world from Canada to New Zealand, performing with such orchestras as London Philharmonic and appearing at such important venues and festivals as Wigmore-Hall of London, Sala Cecília Meireles, Rio de Janeiro, Brazil, "A.B. Michelangeli Festival" of Brescia-Bergamo, Italy, Ruhr Klavier Festival, Germany, Festival at Roque d'Antheron in France.
Alongside his concert engagements, Oleg is Professor at the Anton Bruckner University in Linz, Austria. He also gives masterclasses in many different countries.
Oleg Marshev's first recording project was the complete original works for solo piano by Prokofiev (5 CDs) for Danacord Records. He has since recorded over 35 CDs for the same label, featuring works by Schubert, Brahms, Strauss, Rubinstein, Rachmaninov and others. He has made the world premier recording of Emil von Sauer's complete piano music in 6 volumes.
Another result of the artist's abiding interest in little-known or forgotten music is a recording of Danish romantic piano concertos in 4 CDs. Oleg Marshev is probably the first pianist ever to have recorded the complete works for piano and orchestra by the great Russian Four – Tchaikovsky, Rachmaninov, Prokofiev and Shostakovich. A few years ago two releases came out – Chopin – Complete works for piano and orchestra in two CDs and Mendelssohn and Complete works for piano and orchestra in four CDs. The first CD of complete Ravel solo piano music is going to be released these days.
All Marshev' recordings have been received to widespread critical acclaim by leading international publications. His Shostakovich Concerti disc was reviewed thus by BBC Music magazine: "Marshev a phenomenon – master of every mood from strip-cartoon crispness to thundering monster, but above all a controlling sensibility of intelligence and feeling".