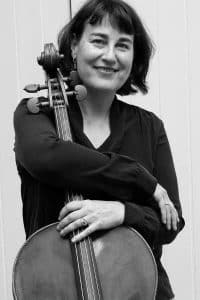 After having started the cello with Michel Tournus at the CRR of Versailles, Nathalie Ruget improved at Paris Superior Conservatory – CNSMDP where she obtained the First Prize of Cello and Chamber Music in the classes of Michel Strauss and Christian Ivaldi. She then completed her training with Lluis Claret in France and Barcelona; she performed alongside him in France, notably at the "Grange de Meslay" festival.
She also improved with Miklos Perenyi, Janos Starker, Gary Hoffman, Christoph Henkel and Bernard Greenhouse. Pablo Casals and its Catalan origins remains a reference for her.
Member of the Ensemble "L'instant Donné" at the beginning of his career, Nathalie Ruget has subsequently worked on an eclectic repertoire where contemporary creation has always been present. Passionate about the history and the evolutions of the music, she supports a doctoral thesis in 2007 devoted to the resonances text / music in the second half of the twentieth century.
She collaborates with the Autumn Festival in Paris, the Cité de la Musique, the Universities of Rouen, Strasbourg, Lyon, the Sorbonne, Trento, Rome, Freiburg and with IRCAM among others. She published in many European newspapers.
Occasional member of the "Philharmonie de Lorraine" and the National Orchester of France, her career leads her more to play chamber music, particularly in Germany and Italy.
She has been playing in Paris and Rouen as a chamber musician since 2005 with the musicians of the Orchester of the Opera.
Holder of the teacher diploma, Nathalie Ruget has been teaching cello at CRR Rouen since 2005.