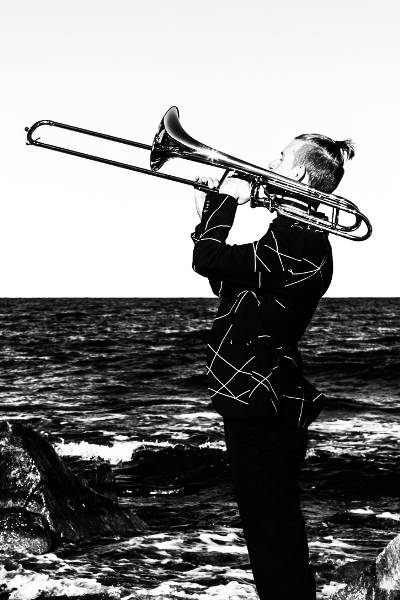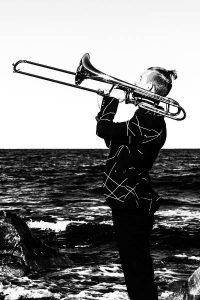 Born in 1987 in Stockholm, Sweden, Mikael Rudolfsson has quickly established himself as one of the most exciting soloists of the contemporary music scene.
After studying in Hanover with Prof. Jonas Bylund, he has been touring as a soloist and a chamber musician at the most renowned festivals worldwide.
Mikael Rudolfsson's musicianship is as diverse and creative as himself – he presents a wide repertoire spectrum ranging from classical and baroque works by Leopold Mozart and Georg Philipp Telemann via Karlheinz Stockhausen and John Cage to the composers of tomorrow like Benjamin Murashkin, Djuro Zivkovic or Lisa Streich. He has appeared as a soloist with orchestras and ensembles all over the world, like Ensemble Modern and the Far East Philharmonic.
In his own interpretations and ensembles he finds opportunities to showcase the different sides of the trombone – its singing quality as well as its electrifying sounds: with his award-winning brass quintet Ensemble Schwerpunkt embarking on a path of finding a new standard repertoire for brass quintet, with his Trio HDR on highlighting Scandinavian composers and virtuosic transcriptions, with Orchester im Treppenhaus on presenting classical music in a new way, mixing acoustic techno beats with creative concert concepts.
At the very beginning of his career Mikael Rudolfsson held a position as principal trombone with the Gävle Symphony Orchestra at the age of 20, before he went to Germany to finish his studies.
At the side of his concert activities, he takes great pleasure in acting and could be seen as an actor/musician in several theatre productions, including "Atlas der abgelegenen Inseln" which was invited to the most prestigious theatre festival in Germany, the Berliner Theatertreffen.
Recordings productions for the broadcasting companies Deutschlandfunk, BR, HR, SWR, NDR, SRF, ORF, Wergo, NEOS and GENUIN serve as proof of his musical work and flexibility.
Since 2017, Mikael Rudolfsson has been a member of Klangforum Wien. He resides in Vienna and teaches trombone at the MUK Privatuniversität der Stadt Wien as well as orchestral studies at the Universität Hamburg.
Mikael Rudolfsson has taught and held masterclasses at the music universities in Hannover and Hamburg (Germany) as well as in Graz (Austria) and Lucerne (Switzerland).