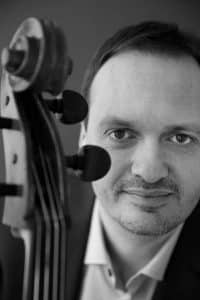 Growing up in a musical family, Markus Wagner discovered the cello at the age of seven. He studied with Walther Nothas at the Hochschule für Musik in Munich. There he received his artist diploma with distinction, later studying further with Zara Nelsova at the Juilliard School of Music in New York. He went on to attend the master classes of Paul Tortelier (Diploma di Merito from the Accademia Chigiana in Siena), Heinrich Schiff, Natalia Gutman, William Pleeth and Yo Yo Ma (New York Violoncello Society).
Markus Wagner has won prizes at several national and international competitions, including first prize at the Felix Mottl Competition in Munich in 1989, the Arts Bursary of the city of Augsburg in 1991, a medal at the Maria Canals Concours International de Musique in Barcelona in 1991 and a diploma at the Concours International d'Exécution musicale in Viña del Mar, Chile in 1991.
In 1991 Markus Wagner became one of the youngest lecturers in Germany to be appointed to hold a cello major class at the Leopold Mozart Conservatory in Augsburg.
Then he was appointed as Professor at the Hochschule für Musik in Nürnberg in 2007.
His wide-ranging repertoire includes Baroque, Classical, Romantique and contemporary works. He often departs from the standard repertoire and tacles less familiar composers and works. He has premiered some of them, notably Heinrich Kaspar Schmid's Cello Concerto.
Markus Wagner has undertaken concert tours of most European countries, Israel, China and the USA and has performed at music festivals in Athens, Bukarest and New York as well as at the Schleswig-Holstein Music Festival and the Ansbach Bach Festival.
His manifold activities as a cellist include radio, TV and CD recordings.