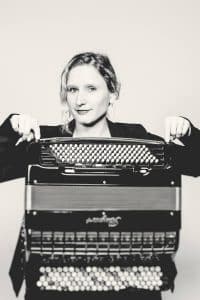 Accordionist graduated with the highest distinctions from Fribourg Musikhochschule in Germany (class of Teodoro Anzelotti) and from Basel Musikhochschule in Switzerland (master's degree specializing in contemporary music), Marie-Andrée Joerger performs throughout the world as a soloist, with orchestras or ensembles, in festivals such as the Zelt-Musik-Festival in Friborg (Germany), Live music in Lyon, ÖGZM in Vienna (Austria), Upol festival in Nova Gorica (Slovenia), International Festival of music from Colmar, Festival Folia in Montreal (Canada), Festival Musica and Arsmondo in Strasbourg, Festival Manifeste de Paris, Les Musicales de Normandie, Akordeono Festival Vilnius (Lithuania), with the orchestras of Friborg (Germany), Nancy, Strasbourg, or the Russian National Philharmonic Orchestra.
She plays in such prestigious venues as the Konzerthaus and the Berlin Philharmonic, the Tonhalle in Zurich, the Opéra de Lyon, Alte Oper in Frankfurt, the Romana Theater in Bucharest, the Philharmonie de Paris alongside renowned soloists, such as Armand Angster, Marc Coppey, Françoise Kubler, Daishin Kashimoto, Pierre Strauch.
Active in contemporary creation, Marie-Andrée Joerger has created many works by collaborating with composers such as Bernard Cavanna, Daniel D'Adamo, Thierry Escaich, Beat Furer, Martin Matalon, Misato Mochizuki, Alberto Posadas, Annette Schlünz, solo or as an ensemble and in particular the first solo work for accordion by Thierry Escaich at the Berlin Philharmonic.
Passionate about chamber music, she performs in a duet with Vincent Dubois (organist, holder of the great organs of Notre Dame de Paris), Antoine Pecqueur (bassoonist of the Les Siècles orchestra). She is a member of La Philharmonie de Poche, of the contemporary ensemble Linea and is a regular guest of the Accroche Note ensemble in Strasbourg.
For twelve years, she has organized each year with Vincent Lhermet and Sylvain Tissot, the International Academy and the Agora Festival in Adelboden, Switzerland.
Marie-Andrée Joerger is professor of accordion at Strasbourg Conservatory – CRR and at the Higher Academy of Music of Strasbourg – Haute école des arts du Rhin. She also teaches pedagogy and didactics at Berne Hochschule in Switzerland.
Marie-Andrée Joerger is regularly requested for master classes in various conservatories in Europe (Italy, Lithuania, Slovenia, Poland, the Netherlands …), and also as a jury during international competitions (Germany, Italy, Lithuania, Poland , Swiss…).
In April 2021, his first solo album Bach en Miroir was released under the Klarthe label, widely acclaimed by critics (Le Monde, France Musique, Mediapart, Pizzicato, Classic News, Rai3 ….).