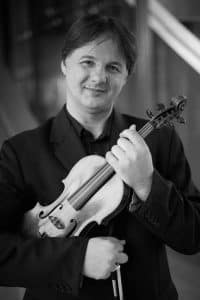 Liviu Prunaru has won the top prizes and gained international recognition at the most prestigious International Violin Competitions in the world.
Liviu Prunaru was the 1997 Gold Medallist of the Dong-A International Violin Competition in Korea, Silver Medallist of the 1998 Indianapolis International Violin Competition in the USA, Silver (2nd Grand Prize) Medallist at the 1993 Queen Elizabeth in Brussels, Gold Medallist at the 1991 Rodolfo Lipizer International Violin Competition in Italy, and Gold Medallist at the R. Molinari Violin Competition in Switzerland, among many others.
Liviu Prunaru made his New York City debut with the Juilliard Symphony in Lincoln Center's Alice Tully Hall after capturing the 1st grand prize in the Juilliard Mendelssohn Competition. Also in 1999, LiviuPrunaru won the 1st grand prize at the E. Nakamichi Wieniawski Violin Concerto Competition resulting in performances with the Aspen Young Artists Orchestra.
Liviu Prunaru has been featured as a soloist with: Concertgebouw Amsterdam, the Royal Philharmonic Orchestra, the London Symphony Orchestra, Belgium National Orchestra, Westdeutsche Sinfonia, Athens Philharmonic Orchestra, Bari Symphony Orchestra, Bucharest Radio-Symphony and Philarmonic Orchestras, Orchestra Mayo of Buenos Aires, Indianapolis Chamber Orchestra, the Meridian Symphony, Mississippi Symphony, the Juilliard Symphony, and the Puchon Philharmonic Orchestra in Korea among many others.
Liviu Prunaru has collaborated with many renowned conductors including Lord Yehudi Menuhin, Fabio Luisi, Emmanuel Krivine, Arthur Arnold, Alexandru Lascae, Georges Octors, Dmitri Lyss, Alexander Dimitriev, Peter Oundjian, Yuri Simonov, Andrew Litton, Peter Braschkat, Cristian Mandeal, Lukas Vis, Horia Andreescu, Mario Benzecry, Park Eun Seong amongst many others. Liviu Prunaru performs frequently as a soloist and in recital in all major cities in the world.
Liviu Prunaru has performed at many prestigious Festivals including Aspen (US), Menuhin (CH), Enescu (RO), Brussels, Buenos Aires, Wallonie, Flanders, Evian, Athens, Incontri in Terra di Siena, Ascoli
, and Salzburg Festivals.
Liviu Prunaru has recorded many CDs with Camerata Lysy, as well as his own debut CD featuring works by Strauss, Brahms, Gluck, de Falla, Saint-Saens, and Sarasate with pianist Luc Devos, which is released by Pavane Records. The latest addition to his library includes Grieg's Complete Sonatas for Violin and Piano with Dana Protopopescu at the piano and a live recording of a project released in Romania called the Duel des Violons (Stradivari VS Guarneri) with Romanian violinist Gabriel Croitoru as his duel partner.
The Swiss record company Claves released all three violin concertos by Saint-Saens where violinist Liviu Prunaru is accompanied by the Ensemble Orchestral de Paris and the distinguished conductor Lawrence Foster. Later additions to his discography include Beethoven's Integral violin and piano Sonatas and the Integral of Grieg Sonatas, both with Dana Protopopescu as partner, Vivaldi's Four Seasons with Virtuosy from Lviv, conductor Serhyi Burko, Dvorak's violin concerto with David Angus, conductor and Symfonie Orkester of Flanders and several recordings with the THARICE VIRTUOSI, an elite group formed with ex-alumni of the Menuhin Academy including the Octets by Mendelssohn, Svendsen, Bruch and other works.
Born in Craiova, Romania, Liviu Prunaru began his violin studies at the age of 6 with Professor Oprisan. During this period he won seven national competitions and 1st prize at the International Kocian competition of Czechoslovakia.
Then in 1990, Liviu Prunaru was invited by violinist and Maestro Alberto Lysy to study with him at the renowned Menuhin Academy of Gstaad, Switzerland, where he worked among great artists like Lord Yehudi Menuhin, Igor Oistrakh, Ruggiero Ricci, Nikita Magaloff, Jean-Pierre Rampal, Peter-Lukas Graf, and Pierre Amoyal. Liviu Prunaru completed his professional studies with Miss Dorothy DeLay in New York. He also actively participated in Master Classes with Itzakh Perlman.
In September 2006, after 14 years of teaching at the Menuhin Academy, Liviu Prunaru became concert master of the Royal Concertgebouw Orchestra in Amsterdam which received, in 2008, for the first time, the title of the best orchestra in the world!
Between 2010 and 2012 he occupies the position of musical director of the International Menuhin Music Academy in Switzerland. Liviu Prunaru has a very active solo career. He is often invited as a soloist from Asia (Japan, Taiwan, Korea) to the Americas and all over Europe.
Liviu Prunaru has been teaching at the Menuhin Academy for the past 30 years, at the Conservatorium van Amsterdam between 2014 and 2022.
He gives Masterclasses in the Netherlands, Romania, Taiwan, Colombia, Argentina, Belgium, Greece, Switzerland, Italy and Spain.
He is playing on a Stradivari dated 1694, graciously offered by the Concertgebouw's board of sponsors.