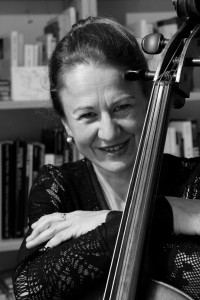 After studying music at the Strasbourg Conservatory with Jean Deplace crowned by two First Prizes in cello and Chamber music, Lisa Erbès joined the Folkwang Musikhochschule in Essen, where she obtained the Diploma of artistic maturity. Then follows an improvement cycle in Moscow with Natalia Chakhovskaya at the Tchaikovsky Conservatory. She also studied for several yearswith Pierre Fournier in Geneva and later she met Anner Bylsma, who introduced her to baroque cello.
Winner of the Menuhin Foundation, her repertoire ranges from baroque to contemporary creation. She gives solo concerts and chamber music in different formations, particularly in duo with pianist Lara Erbès, Stéphane Seban, Daniela Tsekova. She also collaborates with baroque ensembles such as "Le Parlement de Musique" (Martin Gester). Lisa Erbès repeatedly gave the complete Bach Suites since 2013.
She is invited in numerous festivals such as Edinburgh, Avignon, Musica in Strasbourg, "Radio France" in Montpellier, Paris Agora, Gratteri (Italy) and she plays concerts in several countries in Europe and Africa.
Very interested in finding new works, she participated in recording of works by Marie Jaëll for the Solstice label (Sonata for cello and piano). She has composed and played the music for several theater plays for Stéphane Braunschweig and other directors, as well as for dance performances. Her taste for poetry and for the improvisation also leads her to collaborate with actors for musical readings.
Lisa Erbès is cello professor at the Strasbourg National Conservatory – CRR since 2002.